VW Spark Plug Wire Set. 111998031A. 1200-1600cc. Bug Bus Ghia. Ignition Wires
| | |
| --- | --- |
| Brand/Part #: | IAP/Dura International |
| Location: | Fresno, California, US |
| Ship To Locations: | US - FREE SHIPPING |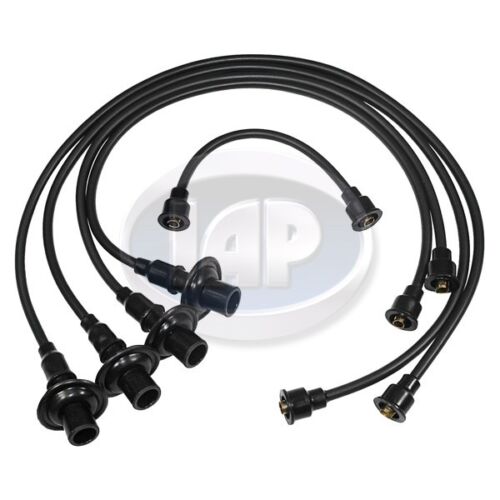 Item Details
VW Spark Plug Wire Set. 111998031A. 1200-1600cc. Bug Bus Ghia. Ignition Wires
Brand New! Fast and Free Shipping
Features
• Silicone jacket
• Heat resistant; extends ignition wire life
• Silicone boot ends
• Snug fit on spark plug and distributor cap
Brand Information
Ignition wires feature a silicone jacket and silicone plug boots for high heat and oil resistance. These ignition wires promote reliability with a snug fit on the spark plugs and distributor cap to significantly reduce the chance of a wire from coming loose.

Terms Of Sale
Check out our ebay store for more automotive parts and accessories.
Receive a 5% discount when you purchase 3 or more items.
Hassle-Free returns!
Any questions? Please ask. We will respond to your inquiry within 24 hours.

Shipping Information
Fast and Free Shipping.
All items will be shipped within 24 hours (often the same day) with tracking info uploaded.

Returns Accepted: Returns Accepted
Item must be returned within: 30 Days
Refund will be given as: Money back or replacement (buyer's choice)
Return policy details:
Return shipping will be paid by: Seller
Modified Item: No
Custom Bundle: No
Interchange Part Number: 09001
Surface Finish: Black
Manufacturer Part Number: 111998031A
Other Part Number: EMPI 9314
Brand: IAP/Dura International
Non-Domestic Product: No
VW Spark Plug Wire Set. 111998031A. 1200-1600cc. Bug Bus Ghia. Ignition Wires fits on the following vehicles. This is for your reference only, please check your auto manual to make sure it fits.
YEAR
MAKE
MODEL
TRIM
NOTES
1980
Volkswagen
Super Beetle
Base Convertible 2-Door 1.6L 1584CC 97Cu. In. H4 GAS OHV Naturally Aspirated
Mfrlabel:Spark Plug Wire Set PartType:Spark Plug Wire Set Quantity Required:1
1979
Volkswagen
Beetle
Base Convertible 2-Door 1.6L 1584CC 97Cu. In. H4 GAS OHV Naturally Aspirated
Mfrlabel:Spark Plug Wire Set PartType:Spark Plug Wire Set Quantity Required:1
1979
Volkswagen
Super Beetle
Base Convertible 2-Door 1.6L 1584CC 97Cu. In. H4 GAS OHV Naturally Aspirated
Mfrlabel:Spark Plug Wire Set PartType:Spark Plug Wire Set Quantity Required:1
1978
Volkswagen
Beetle
Base Convertible 2-Door 1.6L 1584CC 97Cu. In. H4 GAS OHV Naturally Aspirated
Mfrlabel:Spark Plug Wire Set PartType:Spark Plug Wire Set Quantity Required:1
1978
Volkswagen
Super Beetle
Base Convertible 2-Door 1.6L 1584CC 97Cu. In. H4 GAS OHV Naturally Aspirated
Mfrlabel:Spark Plug Wire Set PartType:Spark Plug Wire Set Quantity Required:1
1977
Volkswagen
Beetle
Base Convertible 2-Door 1.6L 1584CC 97Cu. In. H4 GAS OHV Naturally Aspirated
Mfrlabel:Spark Plug Wire Set PartType:Spark Plug Wire Set Quantity Required:1
1977
Volkswagen
Beetle
Base Sedan 2-Door 1.6L 1584CC 97Cu. In. H4 GAS OHV Naturally Aspirated
Mfrlabel:Spark Plug Wire Set PartType:Spark Plug Wire Set Quantity Required:1
1977
Volkswagen
Super Beetle
Base Convertible 2-Door 1.6L 1584CC 97Cu. In. H4 GAS OHV Naturally Aspirated
Mfrlabel:Spark Plug Wire Set PartType:Spark Plug Wire Set Quantity Required:1
1977
Volkswagen
Super Beetle
Base Sedan 2-Door 1.6L 1584CC 97Cu. In. H4 GAS OHV Naturally Aspirated
Mfrlabel:Spark Plug Wire Set PartType:Spark Plug Wire Set Quantity Required:1
1976
Volkswagen
Beetle
Base Convertible 2-Door 1.6L 1584CC 97Cu. In. H4 GAS OHV Naturally Aspirated
Mfrlabel:Spark Plug Wire Set PartType:Spark Plug Wire Set Quantity Required:1
1976
Volkswagen
Beetle
Base Sedan 2-Door 1.6L 1584CC 97Cu. In. H4 GAS OHV Naturally Aspirated
Mfrlabel:Spark Plug Wire Set PartType:Spark Plug Wire Set Quantity Required:1
1976
Volkswagen
Super Beetle
Base Convertible 2-Door 1.6L 1584CC 97Cu. In. H4 GAS OHV Naturally Aspirated
Mfrlabel:Spark Plug Wire Set PartType:Spark Plug Wire Set Quantity Required:1
1976
Volkswagen
Super Beetle
Base Sedan 2-Door 1.6L 1584CC 97Cu. In. H4 GAS OHV Naturally Aspirated
Mfrlabel:Spark Plug Wire Set PartType:Spark Plug Wire Set Quantity Required:1
1975
Volkswagen
Beetle
Base Convertible 2-Door 1.6L 1584CC 97Cu. In. H4 GAS OHV Naturally Aspirated
Mfrlabel:Spark Plug Wire Set PartType:Spark Plug Wire Set Quantity Required:1
1975
Volkswagen
Beetle
Base Sedan 2-Door 1.6L 1584CC 97Cu. In. H4 GAS OHV Naturally Aspirated
Mfrlabel:Spark Plug Wire Set PartType:Spark Plug Wire Set Quantity Required:1
1975
Volkswagen
Super Beetle
Base Convertible 2-Door 1.6L 1584CC 97Cu. In. H4 GAS OHV Naturally Aspirated
Mfrlabel:Spark Plug Wire Set PartType:Spark Plug Wire Set Quantity Required:1
1975
Volkswagen
Super Beetle
Base Sedan 2-Door 1.6L 1584CC 97Cu. In. H4 GAS OHV Naturally Aspirated
Mfrlabel:Spark Plug Wire Set PartType:Spark Plug Wire Set Quantity Required:1
1974
Volkswagen
Beetle
Base 1.6L 1584CC 97Cu. In. H4 GAS Naturally Aspirated
Mfrlabel:Spark Plug Wire Set PartType:Spark Plug Wire Set Quantity Required:1
1974
Volkswagen
Beetle
Base 1.6L 1584CC 97Cu. In. H4 GAS OHV Naturally Aspirated
Mfrlabel:Spark Plug Wire Set PartType:Spark Plug Wire Set Quantity Required:1
1974
Volkswagen
Beetle
Base Convertible 2-Door 1.6L 1584CC 97Cu. In. H4 GAS Naturally Aspirated
Mfrlabel:Spark Plug Wire Set PartType:Spark Plug Wire Set Quantity Required:1
1974
Volkswagen
Beetle
Base Convertible 2-Door 1.6L 1584CC 97Cu. In. H4 GAS OHV Naturally Aspirated
Mfrlabel:Spark Plug Wire Set PartType:Spark Plug Wire Set Quantity Required:1
1974
Volkswagen
Beetle
Base Sedan 2-Door 1.6L 1584CC 97Cu. In. H4 GAS Naturally Aspirated
Mfrlabel:Spark Plug Wire Set PartType:Spark Plug Wire Set Quantity Required:1
1974
Volkswagen
Beetle
Base Sedan 2-Door 1.6L 1584CC 97Cu. In. H4 GAS OHV Naturally Aspirated
Mfrlabel:Spark Plug Wire Set PartType:Spark Plug Wire Set Quantity Required:1
1974
Volkswagen
Karmann Ghia
Base 1.6L 1584CC 97Cu. In. H4 GAS Naturally Aspirated
Mfrlabel:Spark Plug Wire Set PartType:Spark Plug Wire Set Quantity Required:1
1974
Volkswagen
Karmann Ghia
Base 1.6L 1584CC 97Cu. In. H4 GAS OHV Naturally Aspirated
Mfrlabel:Spark Plug Wire Set PartType:Spark Plug Wire Set Quantity Required:1
1974
Volkswagen
Super Beetle
Base 1.6L 1584CC 97Cu. In. H4 GAS Naturally Aspirated
Mfrlabel:Spark Plug Wire Set PartType:Spark Plug Wire Set Quantity Required:1
1974
Volkswagen
Super Beetle
Base 1.6L 1584CC 97Cu. In. H4 GAS OHV Naturally Aspirated
Mfrlabel:Spark Plug Wire Set PartType:Spark Plug Wire Set Quantity Required:1
1974
Volkswagen
Super Beetle
Base Sedan 2-Door 1.6L 1584CC 97Cu. In. H4 GAS Naturally Aspirated
Mfrlabel:Spark Plug Wire Set PartType:Spark Plug Wire Set Quantity Required:1
1974
Volkswagen
Super Beetle
Base Sedan 2-Door 1.6L 1584CC 97Cu. In. H4 GAS OHV Naturally Aspirated
Mfrlabel:Spark Plug Wire Set PartType:Spark Plug Wire Set Quantity Required:1
1974
Volkswagen
Thing
Base 1.6L 1584CC 97Cu. In. H4 GAS Naturally Aspirated
Mfrlabel:Spark Plug Wire Set PartType:Spark Plug Wire Set Quantity Required:1
1974
Volkswagen
Thing
Base 1.6L 1584CC 97Cu. In. H4 GAS OHV Naturally Aspirated
Mfrlabel:Spark Plug Wire Set PartType:Spark Plug Wire Set Quantity Required:1
1973
Volkswagen
Beetle
Base 1.6L 1584CC 97Cu. In. H4 GAS Naturally Aspirated
Mfrlabel:Spark Plug Wire Set PartType:Spark Plug Wire Set Quantity Required:1
1973
Volkswagen
Beetle
Base 1.6L 1584CC 97Cu. In. H4 GAS OHV Naturally Aspirated
Mfrlabel:Spark Plug Wire Set PartType:Spark Plug Wire Set Quantity Required:1
1973
Volkswagen
Karmann Ghia
Base 1.6L 1584CC 97Cu. In. H4 GAS Naturally Aspirated
Mfrlabel:Spark Plug Wire Set PartType:Spark Plug Wire Set Quantity Required:1
1973
Volkswagen
Karmann Ghia
Base 1.6L 1584CC 97Cu. In. H4 GAS OHV Naturally Aspirated
Mfrlabel:Spark Plug Wire Set PartType:Spark Plug Wire Set Quantity Required:1
1973
Volkswagen
Super Beetle
Base 1.6L 1584CC 97Cu. In. H4 GAS Naturally Aspirated
Mfrlabel:Spark Plug Wire Set PartType:Spark Plug Wire Set Quantity Required:1
1973
Volkswagen
Super Beetle
Base 1.6L 1584CC 97Cu. In. H4 GAS OHV Naturally Aspirated
Mfrlabel:Spark Plug Wire Set PartType:Spark Plug Wire Set Quantity Required:1
1973
Volkswagen
Thing
Base 1.6L 1584CC 97Cu. In. H4 GAS Naturally Aspirated
Mfrlabel:Spark Plug Wire Set PartType:Spark Plug Wire Set Quantity Required:1
1973
Volkswagen
Thing
Base 1.6L 1584CC 97Cu. In. H4 GAS OHV Naturally Aspirated
Mfrlabel:Spark Plug Wire Set PartType:Spark Plug Wire Set Quantity Required:1
1972
Volkswagen
Beetle
Base 1.6L 1584CC 97Cu. In. H4 GAS OHV Naturally Aspirated
Mfrlabel:Spark Plug Wire Set PartType:Spark Plug Wire Set Quantity Required:1
1972
Volkswagen
Karmann Ghia
Base 1.6L 1584CC 97Cu. In. H4 GAS OHV Naturally Aspirated
Mfrlabel:Spark Plug Wire Set PartType:Spark Plug Wire Set Quantity Required:1
1972
Volkswagen
Super Beetle
Base 1.6L 1584CC 97Cu. In. H4 GAS Naturally Aspirated
Mfrlabel:Spark Plug Wire Set PartType:Spark Plug Wire Set Quantity Required:1
1972
Volkswagen
Super Beetle
Base 1.6L 1584CC 97Cu. In. H4 GAS OHV Naturally Aspirated
Mfrlabel:Spark Plug Wire Set PartType:Spark Plug Wire Set Quantity Required:1
1972
Volkswagen
Transporter
211 1.6L 1584CC 97Cu. In. H4 GAS Naturally Aspirated
Mfrlabel:Spark Plug Wire Set PartType:Spark Plug Wire Set Quantity Required:1
1972
Volkswagen
Transporter
211 1.6L 1584CC 97Cu. In. H4 GAS OHV Naturally Aspirated
Mfrlabel:Spark Plug Wire Set PartType:Spark Plug Wire Set Quantity Required:1
1972
Volkswagen
Transporter
215 1.6L 1584CC 97Cu. In. H4 GAS Naturally Aspirated
Mfrlabel:Spark Plug Wire Set PartType:Spark Plug Wire Set Quantity Required:1
1972
Volkswagen
Transporter
215 1.6L 1584CC 97Cu. In. H4 GAS OHV Naturally Aspirated
Mfrlabel:Spark Plug Wire Set PartType:Spark Plug Wire Set Quantity Required:1
1972
Volkswagen
Transporter
Base 1.6L 1584CC 97Cu. In. H4 GAS Naturally Aspirated
Mfrlabel:Spark Plug Wire Set PartType:Spark Plug Wire Set Quantity Required:1
1972
Volkswagen
Transporter
Base 1.6L 1584CC 97Cu. In. H4 GAS OHV Naturally Aspirated
Mfrlabel:Spark Plug Wire Set PartType:Spark Plug Wire Set Quantity Required:1
1971
Volkswagen
Beetle
Base 1.6L 1584CC 97Cu. In. H4 GAS Naturally Aspirated
Mfrlabel:Spark Plug Wire Set PartType:Spark Plug Wire Set Quantity Required:1
1971
Volkswagen
Beetle
Base 1.6L 1584CC 97Cu. In. H4 GAS OHV Naturally Aspirated
Mfrlabel:Spark Plug Wire Set PartType:Spark Plug Wire Set Quantity Required:1
1971
Volkswagen
Karmann Ghia
Base 1.6L 1584CC 97Cu. In. H4 GAS Naturally Aspirated
Mfrlabel:Spark Plug Wire Set PartType:Spark Plug Wire Set Quantity Required:1
1971
Volkswagen
Karmann Ghia
Base 1.6L 1584CC 97Cu. In. H4 GAS OHV Naturally Aspirated
Mfrlabel:Spark Plug Wire Set PartType:Spark Plug Wire Set Quantity Required:1
1971
Volkswagen
Super Beetle
Base 1.6L 1584CC 97Cu. In. H4 GAS Naturally Aspirated
Mfrlabel:Spark Plug Wire Set PartType:Spark Plug Wire Set Quantity Required:1
1971
Volkswagen
Super Beetle
Base 1.6L 1584CC 97Cu. In. H4 GAS OHV Naturally Aspirated
Mfrlabel:Spark Plug Wire Set PartType:Spark Plug Wire Set Quantity Required:1
1971
Volkswagen
Transporter
211 1.6L 1584CC 97Cu. In. H4 GAS Naturally Aspirated
Mfrlabel:Spark Plug Wire Set PartType:Spark Plug Wire Set Quantity Required:1
1971
Volkswagen
Transporter
211 1.6L 1584CC 97Cu. In. H4 GAS OHV Naturally Aspirated
Mfrlabel:Spark Plug Wire Set PartType:Spark Plug Wire Set Quantity Required:1
1971
Volkswagen
Transporter
215 1.6L 1584CC 97Cu. In. H4 GAS Naturally Aspirated
Mfrlabel:Spark Plug Wire Set PartType:Spark Plug Wire Set Quantity Required:1
1971
Volkswagen
Transporter
215 1.6L 1584CC 97Cu. In. H4 GAS OHV Naturally Aspirated
Mfrlabel:Spark Plug Wire Set PartType:Spark Plug Wire Set Quantity Required:1
1971
Volkswagen
Transporter
261 1.6L 1584CC 97Cu. In. H4 GAS Naturally Aspirated
Mfrlabel:Spark Plug Wire Set PartType:Spark Plug Wire Set Quantity Required:1
1971
Volkswagen
Transporter
261 1.6L 1584CC 97Cu. In. H4 GAS OHV Naturally Aspirated
Mfrlabel:Spark Plug Wire Set PartType:Spark Plug Wire Set Quantity Required:1
1971
Volkswagen
Transporter
265 1.6L 1584CC 97Cu. In. H4 GAS Naturally Aspirated
Mfrlabel:Spark Plug Wire Set PartType:Spark Plug Wire Set Quantity Required:1
1971
Volkswagen
Transporter
265 1.6L 1584CC 97Cu. In. H4 GAS OHV Naturally Aspirated
Mfrlabel:Spark Plug Wire Set PartType:Spark Plug Wire Set Quantity Required:1
1971
Volkswagen
Transporter
Base 1.6L 1584CC 97Cu. In. H4 GAS Naturally Aspirated
Mfrlabel:Spark Plug Wire Set PartType:Spark Plug Wire Set Quantity Required:1
1971
Volkswagen
Transporter
Base 1.6L 1584CC 97Cu. In. H4 GAS OHV Naturally Aspirated
Mfrlabel:Spark Plug Wire Set PartType:Spark Plug Wire Set Quantity Required:1
1970
Volkswagen
Beetle
Base 1.6L 1584CC 97Cu. In. H4 GAS Naturally Aspirated
Mfrlabel:Spark Plug Wire Set PartType:Spark Plug Wire Set Quantity Required:1
1970
Volkswagen
Beetle
Base 1.6L 1584CC 97Cu. In. H4 GAS OHV Naturally Aspirated
Mfrlabel:Spark Plug Wire Set PartType:Spark Plug Wire Set Quantity Required:1
1970
Volkswagen
Campmobile
Base 1.6L 1584CC 97Cu. In. H4 GAS Naturally Aspirated
Mfrlabel:Spark Plug Wire Set PartType:Spark Plug Wire Set Quantity Required:1
1970
Volkswagen
Karmann Ghia
Base 1.6L 1584CC 97Cu. In. H4 GAS Naturally Aspirated
Mfrlabel:Spark Plug Wire Set PartType:Spark Plug Wire Set Quantity Required:1
1970
Volkswagen
Karmann Ghia
Base 1.6L 1584CC 97Cu. In. H4 GAS OHV Naturally Aspirated
Mfrlabel:Spark Plug Wire Set PartType:Spark Plug Wire Set Quantity Required:1
1970
Volkswagen
Transporter
Base 1.6L 1584CC 97Cu. In. H4 GAS Naturally Aspirated
Mfrlabel:Spark Plug Wire Set Engine: AD Engine: B Engine: C PartType:Spark Plug Wire Set Quantity Required:1
1970
Volkswagen
Transporter
Base 1.6L 1584CC 97Cu. In. H4 GAS OHV Naturally Aspirated
Mfrlabel:Spark Plug Wire Set Engine: AD Engine: B Engine: C PartType:Spark Plug Wire Set Quantity Required:1
1969
Volkswagen
Beetle
Base 1.5L 1457CC 92Cu. In. H4 GAS Naturally Aspirated
Mfrlabel:Spark Plug Wire Set PartType:Spark Plug Wire Set Quantity Required:1
1969
Volkswagen
Beetle
Base 1.5L 1493CC 91Cu. In. H4 GAS OHV Naturally Aspirated
Mfrlabel:Spark Plug Wire Set PartType:Spark Plug Wire Set Quantity Required:1
1969
Volkswagen
Campmobile
Base 1.6L 1584CC 97Cu. In. H4 GAS Naturally Aspirated
Mfrlabel:Spark Plug Wire Set Engine: C PartType:Spark Plug Wire Set Quantity Required:1
1969
Volkswagen
Karmann Ghia
Base 1.5L 1457CC 92Cu. In. H4 GAS Naturally Aspirated
Mfrlabel:Spark Plug Wire Set PartType:Spark Plug Wire Set Quantity Required:1
1969
Volkswagen
Karmann Ghia
Base 1.5L 1493CC 91Cu. In. H4 GAS OHV Naturally Aspirated
Mfrlabel:Spark Plug Wire Set PartType:Spark Plug Wire Set Quantity Required:1
1969
Volkswagen
Transporter
Base 1.6L 1584CC 97Cu. In. H4 GAS Naturally Aspirated
Mfrlabel:Spark Plug Wire Set PartType:Spark Plug Wire Set Quantity Required:1
1969
Volkswagen
Transporter
Base 1.6L 1584CC 97Cu. In. H4 GAS OHV Naturally Aspirated
Mfrlabel:Spark Plug Wire Set PartType:Spark Plug Wire Set Quantity Required:1
1968
Volkswagen
Beetle
Base 1.5L 1457CC 92Cu. In. H4 GAS Naturally Aspirated
Mfrlabel:Spark Plug Wire Set PartType:Spark Plug Wire Set Quantity Required:1
1968
Volkswagen
Beetle
Base 1.5L 1493CC 91Cu. In. H4 GAS OHV Naturally Aspirated
Mfrlabel:Spark Plug Wire Set PartType:Spark Plug Wire Set Quantity Required:1
1968
Volkswagen
Campmobile
Base 1.6L 1584CC 97Cu. In. H4 GAS Naturally Aspirated
Mfrlabel:Spark Plug Wire Set Engine: C PartType:Spark Plug Wire Set Quantity Required:1
1968
Volkswagen
Karmann Ghia
Base 1.5L 1457CC 92Cu. In. H4 GAS Naturally Aspirated
Mfrlabel:Spark Plug Wire Set PartType:Spark Plug Wire Set Quantity Required:1
1968
Volkswagen
Karmann Ghia
Base 1.5L 1493CC 91Cu. In. H4 GAS OHV Naturally Aspirated
Mfrlabel:Spark Plug Wire Set PartType:Spark Plug Wire Set Quantity Required:1
1968
Volkswagen
Transporter
Base 1.6L 1584CC 97Cu. In. H4 GAS Naturally Aspirated
Mfrlabel:Spark Plug Wire Set PartType:Spark Plug Wire Set Quantity Required:1
1968
Volkswagen
Transporter
Base 1.6L 1584CC 97Cu. In. H4 GAS OHV Naturally Aspirated
Mfrlabel:Spark Plug Wire Set PartType:Spark Plug Wire Set Quantity Required:1
1967
Volkswagen
Beetle
Base 1.5L 1457CC 92Cu. In. H4 GAS Naturally Aspirated
Mfrlabel:Spark Plug Wire Set PartType:Spark Plug Wire Set Quantity Required:1
1967
Volkswagen
Beetle
Base 1.5L 1493CC 91Cu. In. H4 GAS OHV Naturally Aspirated
Mfrlabel:Spark Plug Wire Set PartType:Spark Plug Wire Set Quantity Required:1
1967
Volkswagen
Karmann Ghia
Base 1.5L 1457CC 92Cu. In. H4 GAS Naturally Aspirated
Mfrlabel:Spark Plug Wire Set PartType:Spark Plug Wire Set Quantity Required:1
1967
Volkswagen
Transporter
Base 1.5L 1457CC 92Cu. In. H4 GAS Naturally Aspirated
Mfrlabel:Spark Plug Wire Set PartType:Spark Plug Wire Set Quantity Required:1
1967
Volkswagen
Transporter
Base 1.5L 1493CC 91Cu. In. H4 GAS OHV Naturally Aspirated
Mfrlabel:Spark Plug Wire Set PartType:Spark Plug Wire Set Quantity Required:1
1966
Volkswagen
Beetle
Base 1.2L 1192CC 73Cu. In. H4 GAS OHV Naturally Aspirated
Mfrlabel:Spark Plug Wire Set PartType:Spark Plug Wire Set Quantity Required:1
1966
Volkswagen
Beetle
Base 1.3L 1285CC 78Cu. In. H4 GAS OHV Naturally Aspirated
Mfrlabel:Spark Plug Wire Set PartType:Spark Plug Wire Set Quantity Required:1
1966
Volkswagen
Karmann Ghia
Base 1.3L 1285CC 78Cu. In. H4 GAS OHV Naturally Aspirated
Mfrlabel:Spark Plug Wire Set PartType:Spark Plug Wire Set Quantity Required:1
1966
Volkswagen
Transporter
Base 1.5L 1457CC 92Cu. In. H4 GAS Naturally Aspirated
Mfrlabel:Spark Plug Wire Set PartType:Spark Plug Wire Set Quantity Required:1
1966
Volkswagen
Transporter
Base 1.5L 1493CC 91Cu. In. H4 GAS OHV Naturally Aspirated
Mfrlabel:Spark Plug Wire Set PartType:Spark Plug Wire Set Quantity Required:1
1965
Volkswagen
Beetle
Base 1.2L 1192CC 73Cu. In. H4 GAS OHV Naturally Aspirated
Mfrlabel:Spark Plug Wire Set PartType:Spark Plug Wire Set Quantity Required:1
1965
Volkswagen
Karmann Ghia
Base 1.2L 1192CC 73Cu. In. H4 GAS OHV Naturally Aspirated
Mfrlabel:Spark Plug Wire Set PartType:Spark Plug Wire Set Quantity Required:1
1965
Volkswagen
Transporter
Base 1.5L 1457CC 92Cu. In. H4 GAS Naturally Aspirated
Mfrlabel:Spark Plug Wire Set PartType:Spark Plug Wire Set Quantity Required:1
1965
Volkswagen
Transporter
Base 1.5L 1493CC 91Cu. In. H4 GAS OHV Naturally Aspirated
Mfrlabel:Spark Plug Wire Set PartType:Spark Plug Wire Set Quantity Required:1
1964
Volkswagen
Beetle
Base 1.2L 1192CC 73Cu. In. H4 GAS OHV Naturally Aspirated
Mfrlabel:Spark Plug Wire Set PartType:Spark Plug Wire Set Quantity Required:1
1964
Volkswagen
Karmann Ghia
Base 1.2L 1192CC 73Cu. In. H4 GAS OHV Naturally Aspirated
Mfrlabel:Spark Plug Wire Set PartType:Spark Plug Wire Set Quantity Required:1
1964
Volkswagen
Transporter
Base 1.2L 1192CC 73Cu. In. H4 GAS OHV Naturally Aspirated
Mfrlabel:Spark Plug Wire Set PartType:Spark Plug Wire Set Quantity Required:1
1964
Volkswagen
Transporter
Base 1.5L 1457CC 92Cu. In. H4 GAS Naturally Aspirated
Mfrlabel:Spark Plug Wire Set PartType:Spark Plug Wire Set Quantity Required:1
1964
Volkswagen
Transporter
Base 1.5L 1493CC 91Cu. In. H4 GAS OHV Naturally Aspirated
Mfrlabel:Spark Plug Wire Set PartType:Spark Plug Wire Set Quantity Required:1
1963
Volkswagen
Beetle
Base 1.2L 1192CC 73Cu. In. H4 GAS OHV Naturally Aspirated
Mfrlabel:Spark Plug Wire Set PartType:Spark Plug Wire Set Quantity Required:1
1963
Volkswagen
Beetle
Deluxe 1.2L 1192CC 73Cu. In. H4 GAS Naturally Aspirated
Mfrlabel:Spark Plug Wire Set PartType:Spark Plug Wire Set Quantity Required:1
1963
Volkswagen
Karmann Ghia
Base 1.2L 1192CC 73Cu. In. H4 GAS OHV Naturally Aspirated
Mfrlabel:Spark Plug Wire Set PartType:Spark Plug Wire Set Quantity Required:1
1963
Volkswagen
Transporter
Base 1.2L 1192CC 73Cu. In. H4 GAS OHV Naturally Aspirated
Mfrlabel:Spark Plug Wire Set PartType:Spark Plug Wire Set Quantity Required:1
1963
Volkswagen
Transporter
Base 1.5L 1457CC 92Cu. In. H4 GAS Naturally Aspirated
Mfrlabel:Spark Plug Wire Set PartType:Spark Plug Wire Set Quantity Required:1
1963
Volkswagen
Transporter
Base 1.5L 1493CC 91Cu. In. H4 GAS OHV Naturally Aspirated
Mfrlabel:Spark Plug Wire Set PartType:Spark Plug Wire Set Quantity Required:1
1962
Volkswagen
Beetle
Base 1.2L 1192CC 73Cu. In. H4 GAS OHV Naturally Aspirated
Mfrlabel:Spark Plug Wire Set PartType:Spark Plug Wire Set Quantity Required:1
1962
Volkswagen
Beetle
Deluxe 1.2L 1192CC 73Cu. In. H4 GAS Naturally Aspirated
Mfrlabel:Spark Plug Wire Set PartType:Spark Plug Wire Set Quantity Required:1
1962
Volkswagen
Karmann Ghia
Base 1.2L 1192CC 73Cu. In. H4 GAS OHV Naturally Aspirated
Mfrlabel:Spark Plug Wire Set PartType:Spark Plug Wire Set Quantity Required:1
1962
Volkswagen
Transporter
Base 1.2L 1192CC 73Cu. In. H4 GAS OHV Naturally Aspirated
Mfrlabel:Spark Plug Wire Set PartType:Spark Plug Wire Set Quantity Required:1
1961
Volkswagen
Beetle
Base 1.2L 1192CC 73Cu. In. H4 GAS OHV Naturally Aspirated
Mfrlabel:Spark Plug Wire Set PartType:Spark Plug Wire Set Quantity Required:1
1961
Volkswagen
Beetle
Deluxe 1.2L 1192CC 73Cu. In. H4 GAS Naturally Aspirated
Mfrlabel:Spark Plug Wire Set PartType:Spark Plug Wire Set Quantity Required:1
1961
Volkswagen
Karmann Ghia
Base 1.2L 1192CC 73Cu. In. H4 GAS OHV Naturally Aspirated
Mfrlabel:Spark Plug Wire Set PartType:Spark Plug Wire Set Quantity Required:1
1961
Volkswagen
Transporter
Base 1.2L 1192CC 73Cu. In. H4 GAS OHV Naturally Aspirated
Mfrlabel:Spark Plug Wire Set PartType:Spark Plug Wire Set Quantity Required:1
1960
Volkswagen
Beetle
Base 1.2L 1192CC 73Cu. In. H4 GAS OHV Naturally Aspirated
Mfrlabel:Spark Plug Wire Set PartType:Spark Plug Wire Set Quantity Required:1
1960
Volkswagen
Beetle
Deluxe 1.2L 1192CC 73Cu. In. H4 GAS Naturally Aspirated
Mfrlabel:Spark Plug Wire Set PartType:Spark Plug Wire Set Quantity Required:1
1960
Volkswagen
Karmann Ghia
Base 1.2L 1192CC 73Cu. In. H4 GAS OHV Naturally Aspirated
Mfrlabel:Spark Plug Wire Set PartType:Spark Plug Wire Set Quantity Required:1
1960
Volkswagen
Transporter
Base 1.2L 1192CC 73Cu. In. H4 GAS OHV Naturally Aspirated
Mfrlabel:Spark Plug Wire Set PartType:Spark Plug Wire Set Quantity Required:1
1959
Volkswagen
Beetle
Base 1.2L 1192CC 73Cu. In. H4 GAS OHV Naturally Aspirated
Mfrlabel:Spark Plug Wire Set PartType:Spark Plug Wire Set Quantity Required:1
1959
Volkswagen
Beetle
Deluxe 1.2L 1192CC 73Cu. In. H4 GAS Naturally Aspirated
Mfrlabel:Spark Plug Wire Set PartType:Spark Plug Wire Set Quantity Required:1
1959
Volkswagen
Karmann Ghia
Base 1.2L 1192CC 73Cu. In. H4 GAS OHV Naturally Aspirated
Mfrlabel:Spark Plug Wire Set PartType:Spark Plug Wire Set Quantity Required:1
1959
Volkswagen
Transporter
Base 1.2L 1192CC 73Cu. In. H4 GAS OHV Naturally Aspirated
Mfrlabel:Spark Plug Wire Set PartType:Spark Plug Wire Set Quantity Required:1
1958
Volkswagen
Beetle
Base 1.2L 1192CC 73Cu. In. H4 GAS OHV Naturally Aspirated
Mfrlabel:Spark Plug Wire Set PartType:Spark Plug Wire Set Quantity Required:1
1958
Volkswagen
Beetle
Deluxe 1.2L 1192CC 73Cu. In. H4 GAS Naturally Aspirated
Mfrlabel:Spark Plug Wire Set PartType:Spark Plug Wire Set Quantity Required:1
1958
Volkswagen
Karmann Ghia
Base 1.2L 1192CC 73Cu. In. H4 GAS OHV Naturally Aspirated
Mfrlabel:Spark Plug Wire Set PartType:Spark Plug Wire Set Quantity Required:1
1958
Volkswagen
Transporter
Base 1.2L 1192CC 73Cu. In. H4 GAS OHV Naturally Aspirated
Mfrlabel:Spark Plug Wire Set PartType:Spark Plug Wire Set Quantity Required:1
1957
Volkswagen
Beetle
Base 1.2L 1192CC 73Cu. In. H4 GAS OHV Naturally Aspirated
Mfrlabel:Spark Plug Wire Set PartType:Spark Plug Wire Set Quantity Required:1
1957
Volkswagen
Beetle
Deluxe 1.2L 1192CC 73Cu. In. H4 GAS Naturally Aspirated
Mfrlabel:Spark Plug Wire Set PartType:Spark Plug Wire Set Quantity Required:1
1957
Volkswagen
Karmann Ghia
Base 1.2L 1192CC 73Cu. In. H4 GAS OHV Naturally Aspirated
Mfrlabel:Spark Plug Wire Set PartType:Spark Plug Wire Set Quantity Required:1
1957
Volkswagen
Transporter
Base 1.2L 1192CC 73Cu. In. H4 GAS OHV Naturally Aspirated
Mfrlabel:Spark Plug Wire Set PartType:Spark Plug Wire Set Quantity Required:1
1956
Volkswagen
Beetle
Base 1.2L 1192CC 73Cu. In. H4 GAS OHV Naturally Aspirated
Mfrlabel:Spark Plug Wire Set PartType:Spark Plug Wire Set Quantity Required:1
1956
Volkswagen
Beetle
Deluxe 1.2L 1192CC 73Cu. In. H4 GAS Naturally Aspirated
Mfrlabel:Spark Plug Wire Set PartType:Spark Plug Wire Set Quantity Required:1
1956
Volkswagen
Karmann Ghia
Base 1.2L 1192CC 73Cu. In. H4 GAS OHV Naturally Aspirated
Mfrlabel:Spark Plug Wire Set PartType:Spark Plug Wire Set Quantity Required:1
1956
Volkswagen
Transporter
Base 1.2L 1192CC 73Cu. In. H4 GAS OHV Naturally Aspirated
Mfrlabel:Spark Plug Wire Set PartType:Spark Plug Wire Set Quantity Required:1
1955
Volkswagen
Beetle
Base 1.2L 1192CC 73Cu. In. H4 GAS OHV Naturally Aspirated
Mfrlabel:Spark Plug Wire Set PartType:Spark Plug Wire Set Quantity Required:1
1955
Volkswagen
Beetle
Deluxe 1.2L 1192CC 73Cu. In. H4 GAS Naturally Aspirated
Mfrlabel:Spark Plug Wire Set PartType:Spark Plug Wire Set Quantity Required:1
1954
Volkswagen
Beetle
Base 1.2L 1192CC 73Cu. In. H4 GAS OHV Naturally Aspirated
Mfrlabel:Spark Plug Wire Set PartType:Spark Plug Wire Set Quantity Required:1
1954
Volkswagen
Beetle
Deluxe 1.2L 1192CC 73Cu. In. H4 GAS Naturally Aspirated
Mfrlabel:Spark Plug Wire Set PartType:Spark Plug Wire Set Quantity Required:1
1953
Volkswagen
Beetle
Base 1.1L 1131CC 69Cu. In. H4 GAS OHV Naturally Aspirated
Mfrlabel:Spark Plug Wire Set PartType:Spark Plug Wire Set Quantity Required:1
1953
Volkswagen
Beetle
Deluxe 1.1L 1131CC 69Cu. In. H4 GAS Naturally Aspirated
Mfrlabel:Spark Plug Wire Set PartType:Spark Plug Wire Set Quantity Required:1