Spark Plug Ignition Wire Set For 92-02 Honda Accord Civic Del Sol Spiral Core
| | |
| --- | --- |
| Brand/Part #: | Autostarforus D029-PW-HD9002-AS |
| Location: | Dayton, New Jersey, US |
| Ship To Locations: | Worldwide - FREE SHIPPING |
Other

Performance Parts

Fuel System

Engines & Components

Interior Parts

Switch

Sensor

Suspension & Steering

Ignition system
Store category
Other

Performance Parts

Fuel System

Engines & Components

Interior Parts

Switch

Sensor

Suspension & Steering

Ignition system

Others

Emission System

Exterior Parts

Cooling System

Safety & Security

Lighting & Lamps

Exhaust

Turbocharger

Transmission & Drivetrain

Air Intake & Fuel Delivery

Brakes & Brake Parts
Spark Plug Ignition Wire Set For 92-02 Honda Accord Civic Del Sol Spiral Core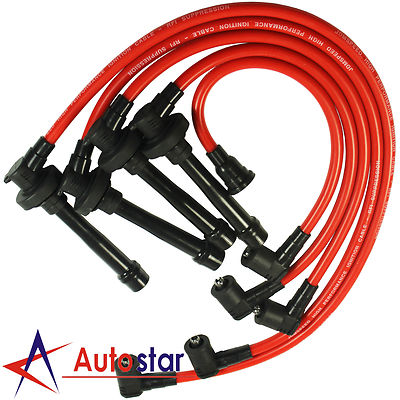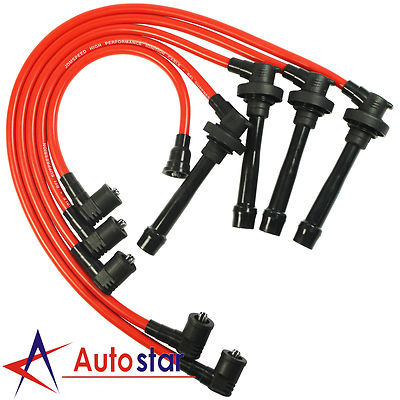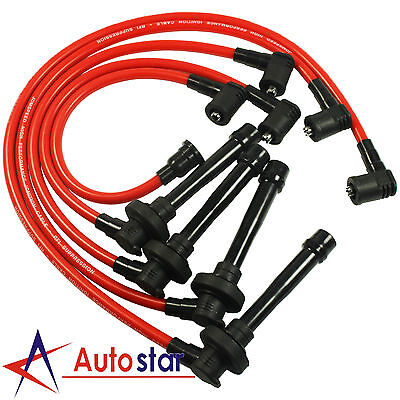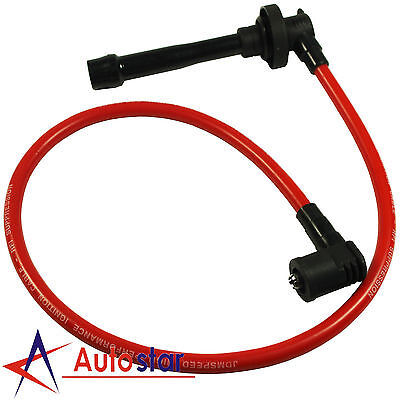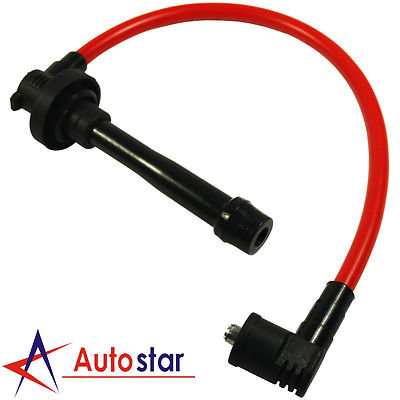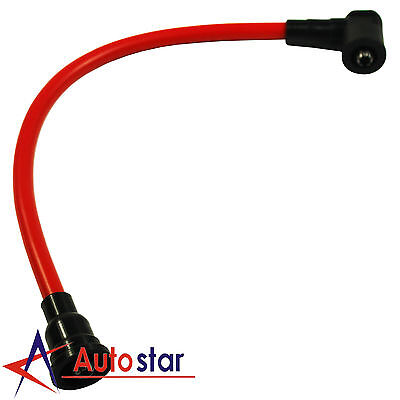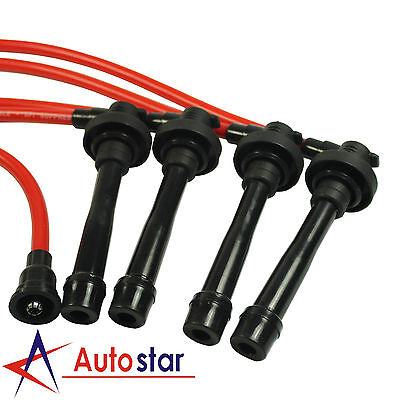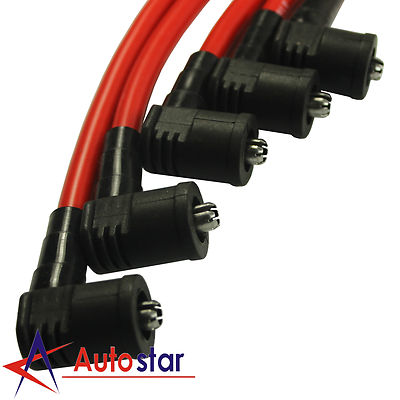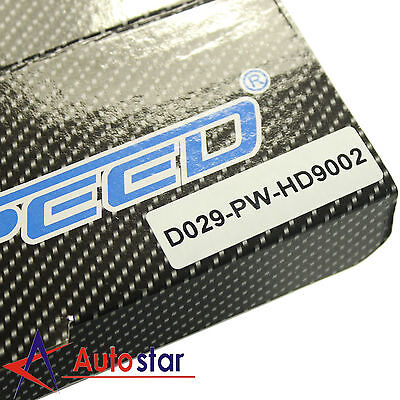 Product Description
| | |
| --- | --- |
| Bundle Listing | Yes |
| Superseded Part Number | Spark Plug Wires |
| Country/Region of Manufacture | China |
| Interchange Part Number | Spark Plug Wire Set,D029-AS |
| Placement on Vehicle | Front Left |
| UPC | 686494015623 |
| OE Spec or Performance/Custom | OE Spec |
| Surface Finish | Red |
| Manufacturer Part Number | HD9002, D029-AS |
| Other Part Number | GM Plug Wire |
| Brand | Autostarforus |
| Product Type | Ignition Wires |
| Fitment Type | Direct Replacement |
| Warranty | 1 Year |
| MPN | HD9002 |
| Color | Red |
| Non-Domestic Product | No |
ONE YEAR WARRANTY
100% brand new and high quality
10.2mm spiral wound design
Ultra low resistance kevlar core
Ultra high strength/high temp
Silicone boots and sleeve
1992-2000
Honda Civic All Models
1993-1997
Honda

Del Sol

All Models
1994-2002 L4
Honda

Accord SOHC

All Models
We only accept payments by PayPal.
Please make payment within 3 days after winning the auction.
Non-payment will lead to unpaid strike file to eBay.
Arrival time for the USA buyers: about 1-6 business days.
Arrival time for Canada buyers: about 3-10 business days.
We ship worldwide, international buyers are welcome!
All international orders are subject to customs and duty fees as defined by the country of import. Customs and duty fees are not included in your order and/or shipping total. We are not responsible for fees associated with import. All fees must be paid by the parcel recipient.
The shipping includes shipping cost & handling cost. They are non-refundable.
Most of the items are after-market, so, no installation instruction will be included.
Buyers pay the return shipping cost for exchange or refund.
Sellers pay the return shipping cost for quality problem.
For replacements, please notice us within 5 days after you receiving the item.
We will try our best to serve you better! Please email us freely if you have any questions.
Negative feedback won't help! Please contact us first to solve the problem before leaving negative feedback.
Payment

Shipping

Return policy

About us
---
On Nov-23-18 at 19:23:07 PST, seller added the following information:
Returns Accepted: Returns Accepted
Item must be returned within: 60 Days
Refund will be given as: Money back or replacement (buyer's choice)
Return policy details:
Return shipping will be paid by: Buyer
Bundle Listing: Yes
Superseded Part Number: Spark Plug Wires
Country/Region of Manufacture: China
Interchange Part Number: Spark Plug Wire Set
Placement on Vehicle: Front Left
UPC: 686494015623
OE Spec or Performance/Custom: OE Spec
Surface Finish: Red
Manufacturer Part Number: HD9002, D029-AS
Other Part Number: GM Plug Wire
Brand: Autostarforus
Product Type: Ignition Wires
Fitment Type: Direct Replacement
Warranty: 1 Year
MPN: HD9002
Color: Red
Non-Domestic Product: No
SKU: D029-PW-HD9002-AS
Spark Plug Ignition Wire Set For 92-02 Honda Accord Civic Del Sol Spiral Core fits on the following vehicles. This is for your reference only, please check your auto manual to make sure it fits.
YEAR
MAKE
MODEL
TRIM
NOTES
2002
Honda
Accord
DX Sedan 4-Door 2.3L 2254CC l4 GAS SOHC Naturally Aspirated
2002
Honda
Accord
EX Coupe 2-Door 2.3L 2254CC l4 GAS SOHC Naturally Aspirated
2002
Honda
Accord
EX Coupe 2-Door 3.0L 2997CC V6 GAS SOHC Naturally Aspirated
2002
Honda
Accord
EX Sedan 4-Door 2.3L 2254CC l4 GAS SOHC Naturally Aspirated
2002
Honda
Accord
EX Sedan 4-Door 3.0L 2997CC V6 GAS SOHC Naturally Aspirated
2002
Honda
Accord
EX-R Sedan 4-Door 2.3L 2254CC l4 GAS SOHC Naturally Aspirated
2002
Honda
Accord
LX Coupe 2-Door 2.3L 2254CC l4 GAS SOHC Naturally Aspirated
2002
Honda
Accord
LX Coupe 2-Door 3.0L 2997CC V6 GAS SOHC Naturally Aspirated
2002
Honda
Accord
LX Sedan 4-Door 2.3L 2254CC l4 GAS SOHC Naturally Aspirated
2002
Honda
Accord
LX Sedan 4-Door 3.0L 2997CC V6 GAS SOHC Naturally Aspirated
2002
Honda
Accord
SE Coupe 2-Door 2.3L 2254CC l4 GAS SOHC Naturally Aspirated
2002
Honda
Accord
SE Sedan 4-Door 2.3L 2254CC l4 GAS SOHC Naturally Aspirated
2002
Honda
Accord
Value Package Sedan 4-Door 2.3L 2254CC l4 GAS SOHC Naturally Aspirated
2001
Honda
Accord
DX Sedan 4-Door 2.3L 2254CC l4 GAS SOHC Naturally Aspirated
2001
Honda
Accord
EX Coupe 2-Door 2.3L 2254CC l4 GAS SOHC Naturally Aspirated
2001
Honda
Accord
EX Coupe 2-Door 3.0L 2997CC V6 GAS SOHC Naturally Aspirated
2001
Honda
Accord
EX Sedan 4-Door 2.3L 2254CC l4 GAS SOHC Naturally Aspirated
2001
Honda
Accord
EX Sedan 4-Door 3.0L 2997CC V6 GAS SOHC Naturally Aspirated
2001
Honda
Accord
EX-R Sedan 4-Door 2.3L 2254CC l4 GAS SOHC Naturally Aspirated
2001
Honda
Accord
LX Coupe 2-Door 2.3L 2254CC l4 GAS SOHC Naturally Aspirated
2001
Honda
Accord
LX Coupe 2-Door 3.0L 2997CC V6 GAS SOHC Naturally Aspirated
2001
Honda
Accord
LX Sedan 4-Door 2.3L 2254CC l4 GAS SOHC Naturally Aspirated
2001
Honda
Accord
LX Sedan 4-Door 3.0L 2997CC V6 GAS SOHC Naturally Aspirated
2001
Honda
Accord
Value Package Sedan 4-Door 2.3L 2254CC l4 GAS SOHC Naturally Aspirated
2000
Honda
Accord
DX Sedan 4-Door 2.3L 2254CC l4 GAS SOHC Naturally Aspirated
2000
Honda
Accord
EX Coupe 2-Door 2.3L 2254CC l4 GAS SOHC Naturally Aspirated
2000
Honda
Accord
EX Coupe 2-Door 3.0L 2997CC V6 GAS SOHC Naturally Aspirated
2000
Honda
Accord
EX Sedan 4-Door 2.3L 2254CC l4 GAS SOHC Naturally Aspirated
2000
Honda
Accord
EX Sedan 4-Door 3.0L 2997CC V6 GAS SOHC Naturally Aspirated
2000
Honda
Accord
EX-R Sedan 4-Door 2.3L 2254CC l4 GAS SOHC Naturally Aspirated
2000
Honda
Accord
LX Coupe 2-Door 2.3L 2254CC l4 GAS SOHC Naturally Aspirated
2000
Honda
Accord
LX Coupe 2-Door 3.0L 2997CC V6 GAS SOHC Naturally Aspirated
2000
Honda
Accord
LX Sedan 4-Door 2.3L 2254CC l4 GAS SOHC Naturally Aspirated
2000
Honda
Accord
LX Sedan 4-Door 3.0L 2997CC V6 GAS SOHC Naturally Aspirated
2000
Honda
Accord
SE Sedan 4-Door 2.3L 2254CC l4 GAS SOHC Naturally Aspirated
2000
Honda
Civic
DX Coupe 2-Door 1.6L 1588CC 98Cu. In. l4 GAS SOHC Naturally Aspirated
2000
Honda
Civic
DX Sedan 4-Door 1.6L 1588CC 98Cu. In. l4 GAS SOHC Naturally Aspirated
2000
Honda
Civic
EX Coupe 2-Door 1.6L 1588CC 98Cu. In. l4 GAS SOHC Naturally Aspirated
2000
Honda
Civic
EX Sedan 4-Door 1.6L 1588CC 98Cu. In. l4 GAS SOHC Naturally Aspirated
2000
Honda
Civic
EX-R Coupe 2-Door 1.6L 1588CC 98Cu. In. l4 GAS SOHC Naturally Aspirated
2000
Honda
Civic
EX-R Sedan 4-Door 1.6L 1588CC 98Cu. In. l4 GAS SOHC Naturally Aspirated
2000
Honda
Civic
GX Sedan 4-Door 1.6L 1588CC 98Cu. In. l4 CNG SOHC Naturally Aspirated
2000
Honda
Civic
HX Coupe 2-Door 1.6L 1590CC l4 GAS SOHC Naturally Aspirated
2000
Honda
Civic
LX Sedan 4-Door 1.6L 1588CC 98Cu. In. l4 GAS SOHC Naturally Aspirated
2000
Honda
Civic
Si Coupe 2-Door 1.6L 1595CC l4 GAS DOHC Naturally Aspirated
1999
Honda
Accord
DX Sedan 4-Door 2.3L 2254CC l4 GAS SOHC Naturally Aspirated
1999
Honda
Accord
EX Coupe 2-Door 2.3L 2254CC l4 GAS SOHC Naturally Aspirated
1999
Honda
Accord
EX Coupe 2-Door 3.0L 2997CC V6 GAS SOHC Naturally Aspirated
1999
Honda
Accord
EX Sedan 4-Door 2.3L 2254CC l4 GAS SOHC Naturally Aspirated
1999
Honda
Accord
EX Sedan 4-Door 3.0L 2997CC V6 GAS SOHC Naturally Aspirated
1999
Honda
Accord
EX-R Sedan 4-Door 2.3L 2254CC l4 GAS SOHC Naturally Aspirated
1999
Honda
Accord
LX Coupe 2-Door 2.3L 2254CC l4 GAS SOHC Naturally Aspirated
1999
Honda
Accord
LX Coupe 2-Door 3.0L 2997CC V6 GAS SOHC Naturally Aspirated
1999
Honda
Accord
LX Sedan 4-Door 2.3L 2254CC l4 GAS SOHC Naturally Aspirated
1999
Honda
Accord
LX Sedan 4-Door 3.0L 2997CC V6 GAS SOHC Naturally Aspirated
1999
Honda
Civic
DX Coupe 2-Door 1.6L 1588CC 98Cu. In. l4 GAS SOHC Naturally Aspirated
1999
Honda
Civic
DX Sedan 4-Door 1.6L 1588CC 98Cu. In. l4 GAS SOHC Naturally Aspirated
1999
Honda
Civic
EX Coupe 2-Door 1.6L 1588CC 98Cu. In. l4 GAS SOHC Naturally Aspirated
1999
Honda
Civic
EX Sedan 4-Door 1.6L 1588CC 98Cu. In. l4 GAS SOHC Naturally Aspirated
1999
Honda
Civic
EX-R Coupe 2-Door 1.6L 1588CC 98Cu. In. l4 GAS SOHC Naturally Aspirated
1999
Honda
Civic
EX-R Sedan 4-Door 1.6L 1588CC 98Cu. In. l4 GAS SOHC Naturally Aspirated
1999
Honda
Civic
GX Sedan 4-Door 1.6L 1588CC 98Cu. In. l4 CNG SOHC Naturally Aspirated
1999
Honda
Civic
HX Coupe 2-Door 1.6L 1590CC l4 GAS SOHC Naturally Aspirated
1999
Honda
Civic
LX Sedan 4-Door 1.6L 1588CC 98Cu. In. l4 GAS SOHC Naturally Aspirated
1999
Honda
Civic
Si Coupe 2-Door 1.6L 1595CC l4 GAS DOHC Naturally Aspirated
1999
Honda
Civic
Value Package Sedan 4-Door 1.6L 1588CC 98Cu. In. l4 GAS SOHC Naturally Aspirated
1998
Honda
Accord
DX Sedan 4-Door 2.3L 2254CC l4 GAS SOHC Naturally Aspirated
1998
Honda
Accord
EX Coupe 2-Door 2.3L 2254CC l4 GAS SOHC Naturally Aspirated
1998
Honda
Accord
EX Coupe 2-Door 3.0L 2997CC V6 GAS SOHC Naturally Aspirated
1998
Honda
Accord
EX Sedan 4-Door 2.3L 2254CC l4 GAS SOHC Naturally Aspirated
1998
Honda
Accord
EX Sedan 4-Door 3.0L 2997CC V6 GAS SOHC Naturally Aspirated
1998
Honda
Accord
EX-R Sedan 4-Door 2.3L 2254CC l4 GAS SOHC Naturally Aspirated
1998
Honda
Accord
LX Coupe 2-Door 2.3L 2254CC l4 GAS SOHC Naturally Aspirated
1998
Honda
Accord
LX Coupe 2-Door 3.0L 2997CC V6 GAS SOHC Naturally Aspirated
1998
Honda
Accord
LX Sedan 4-Door 2.3L 2254CC l4 GAS SOHC Naturally Aspirated
1998
Honda
Accord
LX Sedan 4-Door 3.0L 2997CC V6 GAS SOHC Naturally Aspirated
1998
Honda
Civic
DX Coupe 2-Door 1.6L 1588CC 98Cu. In. l4 GAS SOHC Naturally Aspirated
1998
Honda
Civic
DX Sedan 4-Door 1.6L 1588CC 98Cu. In. l4 GAS SOHC Naturally Aspirated
1998
Honda
Civic
EX Coupe 2-Door 1.6L 1588CC 98Cu. In. l4 GAS SOHC Naturally Aspirated
1998
Honda
Civic
EX Sedan 4-Door 1.6L 1588CC 98Cu. In. l4 GAS SOHC Naturally Aspirated
1998
Honda
Civic
EX-R Coupe 2-Door 1.6L 1588CC 98Cu. In. l4 GAS SOHC Naturally Aspirated
1998
Honda
Civic
EX-R Sedan 4-Door 1.6L 1588CC 98Cu. In. l4 GAS SOHC Naturally Aspirated
1998
Honda
Civic
GX Sedan 4-Door 1.6L 1588CC 98Cu. In. l4 CNG SOHC Naturally Aspirated
1998
Honda
Civic
HX Coupe 2-Door 1.6L 1590CC l4 GAS SOHC Naturally Aspirated
1998
Honda
Civic
LX Sedan 4-Door 1.6L 1588CC 98Cu. In. l4 GAS SOHC Naturally Aspirated
1998
Honda
Civic
Si Coupe 2-Door 1.6L 1588CC 98Cu. In. l4 GAS SOHC Naturally Aspirated
1997
Honda
Accord
DX Sedan 4-Door 2.2L 2156CC l4 GAS SOHC Naturally Aspirated
1997
Honda
Accord
EX Coupe 2-Door 2.2L 2156CC l4 GAS SOHC Naturally Aspirated
1997
Honda
Accord
EX Coupe 2-Door 2.7L 2675CC V6 GAS SOHC Naturally Aspirated
1997
Honda
Accord
EX Sedan 4-Door 2.2L 2156CC l4 GAS SOHC Naturally Aspirated
1997
Honda
Accord
EX Sedan 4-Door 2.7L 2675CC V6 GAS SOHC Naturally Aspirated
1997
Honda
Accord
EX Wagon 5-Door 2.2L 2156CC l4 GAS SOHC Naturally Aspirated
1997
Honda
Accord
EX Wagon 5-Door 2.7L 2675CC V6 GAS SOHC Naturally Aspirated
1997
Honda
Accord
EX-R Sedan 4-Door 2.2L 2156CC l4 GAS SOHC Naturally Aspirated
1997
Honda
Accord
EX-R Sedan 4-Door 2.7L 2675CC V6 GAS SOHC Naturally Aspirated
1997
Honda
Accord
LX Coupe 2-Door 2.2L 2156CC l4 GAS SOHC Naturally Aspirated
1997
Honda
Accord
LX Coupe 2-Door 2.7L 2675CC V6 GAS SOHC Naturally Aspirated
1997
Honda
Accord
LX Sedan 4-Door 2.2L 2156CC l4 GAS SOHC Naturally Aspirated
1997
Honda
Accord
LX Sedan 4-Door 2.7L 2675CC V6 GAS SOHC Naturally Aspirated
1997
Honda
Accord
LX Wagon 5-Door 2.2L 2156CC l4 GAS SOHC Naturally Aspirated
1997
Honda
Accord
LX Wagon 5-Door 2.7L 2675CC V6 GAS SOHC Naturally Aspirated
1997
Honda
Accord
SE Coupe 2-Door 2.2L 2156CC l4 GAS SOHC Naturally Aspirated
1997
Honda
Accord
SE Sedan 4-Door 2.2L 2156CC l4 GAS SOHC Naturally Aspirated
1997
Honda
Accord
Value Package Sedan 4-Door 2.2L 2156CC l4 GAS SOHC Naturally Aspirated
1997
Honda
Civic
DX Coupe 2-Door 1.6L 1588CC 98Cu. In. l4 GAS SOHC Naturally Aspirated
1997
Honda
Civic
DX Sedan 4-Door 1.6L 1588CC 98Cu. In. l4 GAS SOHC Naturally Aspirated
1997
Honda
Civic
EX Coupe 2-Door 1.6L 1588CC 98Cu. In. l4 GAS SOHC Naturally Aspirated
1997
Honda
Civic
EX Sedan 4-Door 1.6L 1588CC 98Cu. In. l4 GAS SOHC Naturally Aspirated
1997
Honda
Civic
EX-R Coupe 2-Door 1.6L 1588CC 98Cu. In. l4 GAS SOHC Naturally Aspirated
1997
Honda
Civic
EX-R Sedan 4-Door 1.6L 1588CC 98Cu. In. l4 GAS SOHC Naturally Aspirated
1997
Honda
Civic
HX Coupe 2-Door 1.6L 1590CC l4 GAS SOHC Naturally Aspirated
1997
Honda
Civic
LX Sedan 4-Door 1.6L 1588CC 98Cu. In. l4 GAS SOHC Naturally Aspirated
1997
Honda
Civic
Si Coupe 2-Door 1.6L 1588CC 98Cu. In. l4 GAS SOHC Naturally Aspirated
1997
Honda
Civic del Sol
S Coupe 2-Door 1.6L 1588CC 98Cu. In. l4 GAS SOHC Naturally Aspirated
1997
Honda
Civic del Sol
Si Coupe 2-Door 1.6L 1588CC 98Cu. In. l4 GAS SOHC Naturally Aspirated
1997
Honda
Civic del Sol
VTEC Coupe 2-Door 1.6L 1595CC l4 GAS DOHC Naturally Aspirated
1996
Honda
Accord
25th Anniversary Edition Sedan 4-Door 2.2L 2156CC l4 GAS SOHC Naturally Aspirated
1996
Honda
Accord
DX Sedan 4-Door 2.2L 2156CC l4 GAS SOHC Naturally Aspirated
1996
Honda
Accord
EX Coupe 2-Door 2.2L 2156CC l4 GAS SOHC Naturally Aspirated
1996
Honda
Accord
EX Coupe 2-Door 2.7L 2675CC V6 GAS SOHC Naturally Aspirated
1996
Honda
Accord
EX Sedan 4-Door 2.2L 2156CC l4 GAS SOHC Naturally Aspirated
1996
Honda
Accord
EX Sedan 4-Door 2.7L 2675CC V6 GAS SOHC Naturally Aspirated
1996
Honda
Accord
EX Wagon 5-Door 2.2L 2156CC l4 GAS SOHC Naturally Aspirated
1996
Honda
Accord
EX Wagon 5-Door 2.7L 2675CC V6 GAS SOHC Naturally Aspirated
1996
Honda
Accord
EX-R Sedan 4-Door 2.2L 2156CC l4 GAS SOHC Naturally Aspirated
1996
Honda
Accord
EX-R Sedan 4-Door 2.7L 2675CC V6 GAS Naturally Aspirated
1996
Honda
Accord
LX Coupe 2-Door 2.2L 2156CC l4 GAS SOHC Naturally Aspirated
1996
Honda
Accord
LX Coupe 2-Door 2.7L 2675CC V6 GAS SOHC Naturally Aspirated
1996
Honda
Accord
LX Sedan 4-Door 2.2L 2156CC l4 GAS SOHC Naturally Aspirated
1996
Honda
Accord
LX Sedan 4-Door 2.7L 2675CC V6 GAS SOHC Naturally Aspirated
1996
Honda
Accord
LX Wagon 5-Door 2.2L 2156CC l4 GAS SOHC Naturally Aspirated
1996
Honda
Accord
LX Wagon 5-Door 2.7L 2675CC V6 GAS SOHC Naturally Aspirated
1996
Honda
Accord
Value Package Sedan 4-Door 2.2L 2156CC l4 GAS SOHC Naturally Aspirated
1996
Honda
Civic
DX Coupe 2-Door 1.6L 1588CC 98Cu. In. l4 GAS SOHC Naturally Aspirated
1996
Honda
Civic
DX Sedan 4-Door 1.6L 1588CC 98Cu. In. l4 GAS SOHC Naturally Aspirated
1996
Honda
Civic
EX Coupe 2-Door 1.6L 1588CC 98Cu. In. l4 GAS SOHC Naturally Aspirated
1996
Honda
Civic
EX Sedan 4-Door 1.6L 1588CC 98Cu. In. l4 GAS SOHC Naturally Aspirated
1996
Honda
Civic
HX Coupe 2-Door 1.6L 1590CC l4 GAS SOHC Naturally Aspirated
1996
Honda
Civic
LX Sedan 4-Door 1.6L 1588CC 98Cu. In. l4 GAS SOHC Naturally Aspirated
1996
Honda
Civic
Si Coupe 2-Door 1.6L 1588CC 98Cu. In. l4 GAS SOHC Naturally Aspirated
1996
Honda
Civic del Sol
S Coupe 2-Door 1.6L 1588CC 98Cu. In. l4 GAS SOHC Naturally Aspirated
1996
Honda
Civic del Sol
Si Coupe 2-Door 1.6L 1588CC 98Cu. In. l4 GAS SOHC Naturally Aspirated
1996
Honda
Civic del Sol
VTEC Coupe 2-Door 1.6L 1595CC l4 GAS DOHC Naturally Aspirated
1995
Honda
Accord
DX Sedan 4-Door 2.2L 2156CC l4 GAS SOHC Naturally Aspirated
1995
Honda
Accord
EX Coupe 2-Door 2.2L 2156CC l4 GAS SOHC Naturally Aspirated
1995
Honda
Accord
EX Coupe 2-Door 2.7L 2675CC V6 GAS SOHC Naturally Aspirated
1995
Honda
Accord
EX Sedan 4-Door 2.2L 2156CC l4 GAS SOHC Naturally Aspirated
1995
Honda
Accord
EX Sedan 4-Door 2.7L 2675CC V6 GAS SOHC Naturally Aspirated
1995
Honda
Accord
EX Wagon 5-Door 2.2L 2156CC l4 GAS SOHC Naturally Aspirated
1995
Honda
Accord
EX Wagon 5-Door 2.7L 2675CC V6 GAS SOHC Naturally Aspirated
1995
Honda
Accord
EX-R Sedan 4-Door 2.7L 2675CC V6 GAS Naturally Aspirated
1995
Honda
Accord
LX Coupe 2-Door 2.2L 2156CC l4 GAS SOHC Naturally Aspirated
1995
Honda
Accord
LX Coupe 2-Door 2.7L 2675CC V6 GAS SOHC Naturally Aspirated
1995
Honda
Accord
LX Sedan 4-Door 2.2L 2156CC l4 GAS SOHC Naturally Aspirated
1995
Honda
Accord
LX Sedan 4-Door 2.7L 2675CC V6 GAS SOHC Naturally Aspirated
1995
Honda
Accord
LX Wagon 5-Door 2.2L 2156CC l4 GAS SOHC Naturally Aspirated
1995
Honda
Accord
LX Wagon 5-Door 2.7L 2675CC V6 GAS SOHC Naturally Aspirated
1995
Honda
Civic
DX Coupe 2-Door 1.5L 1493CC l4 GAS SOHC Naturally Aspirated
1995
Honda
Civic
DX Sedan 4-Door 1.5L 1493CC l4 GAS SOHC Naturally Aspirated
1995
Honda
Civic
EX Coupe 2-Door 1.6L 1588CC 98Cu. In. l4 GAS SOHC Naturally Aspirated
1995
Honda
Civic
EX Sedan 4-Door 1.6L 1588CC 98Cu. In. l4 GAS SOHC Naturally Aspirated
1995
Honda
Civic
LX Sedan 4-Door 1.5L 1493CC l4 GAS SOHC Naturally Aspirated
1995
Honda
Civic del Sol
S Coupe 2-Door 1.5L 1493CC l4 GAS SOHC Naturally Aspirated
1995
Honda
Civic del Sol
Si Coupe 2-Door 1.6L 1588CC 98Cu. In. l4 GAS SOHC Naturally Aspirated
1995
Honda
Civic del Sol
VTEC Coupe 2-Door 1.6L 1588CC 98Cu. In. l4 GAS DOHC Naturally Aspirated
1994
Honda
Accord
DX Coupe 2-Door 2.2L 2156CC l4 GAS SOHC Naturally Aspirated
1994
Honda
Accord
DX Sedan 4-Door 2.2L 2156CC l4 GAS SOHC Naturally Aspirated
1994
Honda
Accord
EX Coupe 2-Door 2.2L 2156CC l4 GAS SOHC Naturally Aspirated
1994
Honda
Accord
EX Sedan 4-Door 2.2L 2156CC l4 GAS SOHC Naturally Aspirated
1994
Honda
Accord
EX Wagon 5-Door 2.2L 2156CC l4 GAS SOHC Naturally Aspirated
1994
Honda
Accord
LX Coupe 2-Door 2.2L 2156CC l4 GAS SOHC Naturally Aspirated
1994
Honda
Accord
LX Sedan 4-Door 2.2L 2156CC l4 GAS SOHC Naturally Aspirated
1994
Honda
Accord
LX Wagon 5-Door 2.2L 2156CC l4 GAS SOHC Naturally Aspirated
1994
Honda
Civic
DX Coupe 2-Door 1.5L 1493CC l4 GAS SOHC Naturally Aspirated
1994
Honda
Civic
DX Sedan 4-Door 1.5L 1493CC l4 GAS SOHC Naturally Aspirated
1994
Honda
Civic
EX Coupe 2-Door 1.6L 1588CC 98Cu. In. l4 GAS SOHC Naturally Aspirated
1994
Honda
Civic
EX Sedan 4-Door 1.6L 1588CC 98Cu. In. l4 GAS SOHC Naturally Aspirated
1994
Honda
Civic
LX Sedan 4-Door 1.5L 1493CC l4 GAS SOHC Naturally Aspirated
1994
Honda
Civic del Sol
S Coupe 2-Door 1.5L 1493CC l4 GAS SOHC Naturally Aspirated
1994
Honda
Civic del Sol
Si Coupe 2-Door 1.6L 1588CC 98Cu. In. l4 GAS SOHC Naturally Aspirated
1994
Honda
Civic del Sol
VTEC Coupe 2-Door 1.6L 1588CC 98Cu. In. l4 GAS DOHC Naturally Aspirated
1993
Honda
Accord
10th Anniversary Sedan 4-Door 2.2L 2156CC l4 GAS SOHC Naturally Aspirated
1993
Honda
Accord
DX Coupe 2-Door 2.2L 2156CC l4 GAS SOHC Naturally Aspirated
1993
Honda
Accord
DX Sedan 4-Door 2.2L 2156CC l4 GAS SOHC Naturally Aspirated
1993
Honda
Accord
EX Coupe 2-Door 2.2L 2156CC l4 GAS SOHC Naturally Aspirated
1993
Honda
Accord
EX Sedan 4-Door 2.2L 2156CC l4 GAS SOHC Naturally Aspirated
1993
Honda
Accord
EX Wagon 5-Door 2.2L 2156CC l4 GAS SOHC Naturally Aspirated
1993
Honda
Accord
LX Coupe 2-Door 2.2L 2156CC l4 GAS SOHC Naturally Aspirated
1993
Honda
Accord
LX Sedan 4-Door 2.2L 2156CC l4 GAS SOHC Naturally Aspirated
1993
Honda
Accord
LX Wagon 5-Door 2.2L 2156CC l4 GAS SOHC Naturally Aspirated
1993
Honda
Accord
SE Coupe 2-Door 2.2L 2156CC l4 GAS SOHC Naturally Aspirated
1993
Honda
Accord
SE Sedan 4-Door 2.2L 2156CC l4 GAS SOHC Naturally Aspirated
1993
Honda
Civic
DX Coupe 2-Door 1.5L 1493CC l4 GAS SOHC Naturally Aspirated
1993
Honda
Civic
DX Sedan 4-Door 1.5L 1493CC l4 GAS SOHC Naturally Aspirated
1993
Honda
Civic
EX Coupe 2-Door 1.6L 1588CC 98Cu. In. l4 GAS SOHC Naturally Aspirated
1993
Honda
Civic
EX Sedan 4-Door 1.6L 1588CC 98Cu. In. l4 GAS SOHC Naturally Aspirated
1993
Honda
Civic
LX Sedan 4-Door 1.5L 1493CC l4 GAS SOHC Naturally Aspirated
1993
Honda
Civic del Sol
S Coupe 2-Door 1.5L 1493CC l4 GAS SOHC Naturally Aspirated
1993
Honda
Civic del Sol
Si Coupe 2-Door 1.6L 1588CC 98Cu. In. l4 GAS SOHC Naturally Aspirated
1992
Honda
Accord
DX Coupe 2-Door 2.2L 2156CC l4 GAS SOHC Naturally Aspirated
1992
Honda
Accord
DX Sedan 4-Door 2.2L 2156CC l4 GAS SOHC Naturally Aspirated
1992
Honda
Accord
EX Coupe 2-Door 2.2L 2156CC l4 GAS SOHC Naturally Aspirated
1992
Honda
Accord
EX Sedan 4-Door 2.2L 2156CC l4 GAS SOHC Naturally Aspirated
1992
Honda
Accord
EX Wagon 5-Door 2.2L 2156CC l4 GAS SOHC Naturally Aspirated
1992
Honda
Accord
LX Coupe 2-Door 2.2L 2156CC l4 GAS SOHC Naturally Aspirated
1992
Honda
Accord
LX Sedan 4-Door 2.2L 2156CC l4 GAS SOHC Naturally Aspirated
1992
Honda
Accord
LX Wagon 5-Door 2.2L 2156CC l4 GAS SOHC Naturally Aspirated
1992
Honda
Civic
DX Sedan 4-Door 1.5L 1493CC l4 GAS SOHC Naturally Aspirated
1992
Honda
Civic
EX Sedan 4-Door 1.6L 1588CC 98Cu. In. l4 GAS SOHC Naturally Aspirated
1992
Honda
Civic
LX Sedan 4-Door 1.5L 1493CC l4 GAS SOHC Naturally Aspirated
1957
Abarth
750
Base 0.7L 747CC 46Cu. In. l4 GAS OHV Naturally Aspirated