Set 8x AcDelco Spark Plug Wire Set 9748RR For Pontiac Chevrolet Saab Buick 05-08
| | |
| --- | --- |
| Brand/Part #: | ACDelco 9748RR -8 |
| Location: | RENTON , WA, US |
| Ship To Locations: | US - $6.99 Flat Rate |
Set 8x AcDelco Spark Plug Wire Set 9748RR For Pontiac Chevrolet Saab Buick 05-08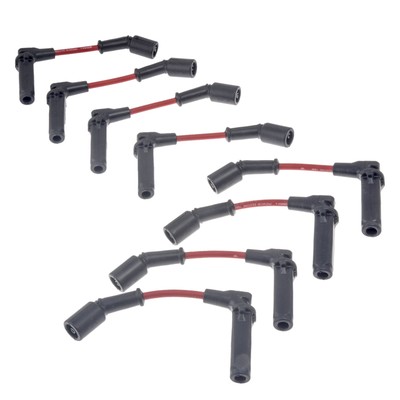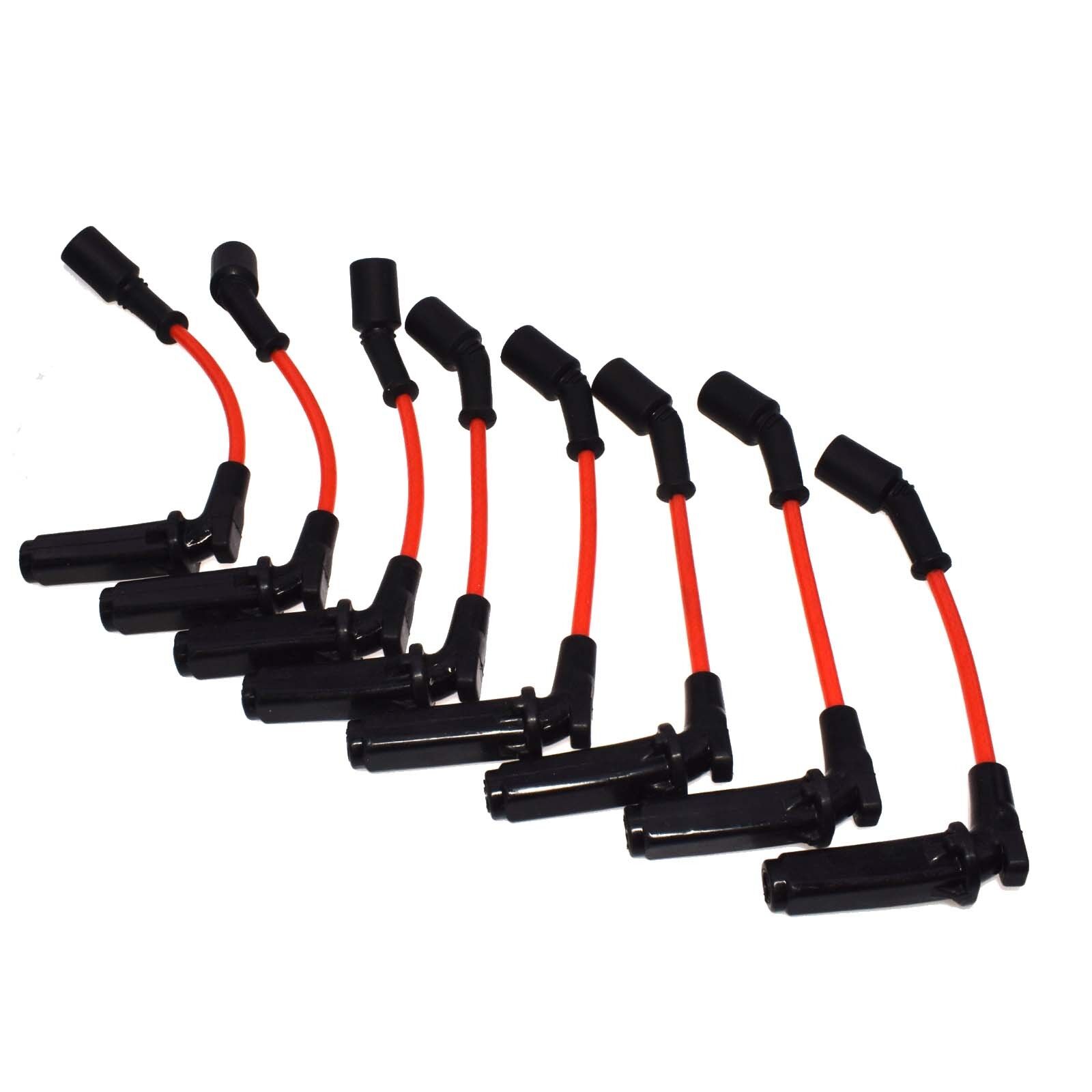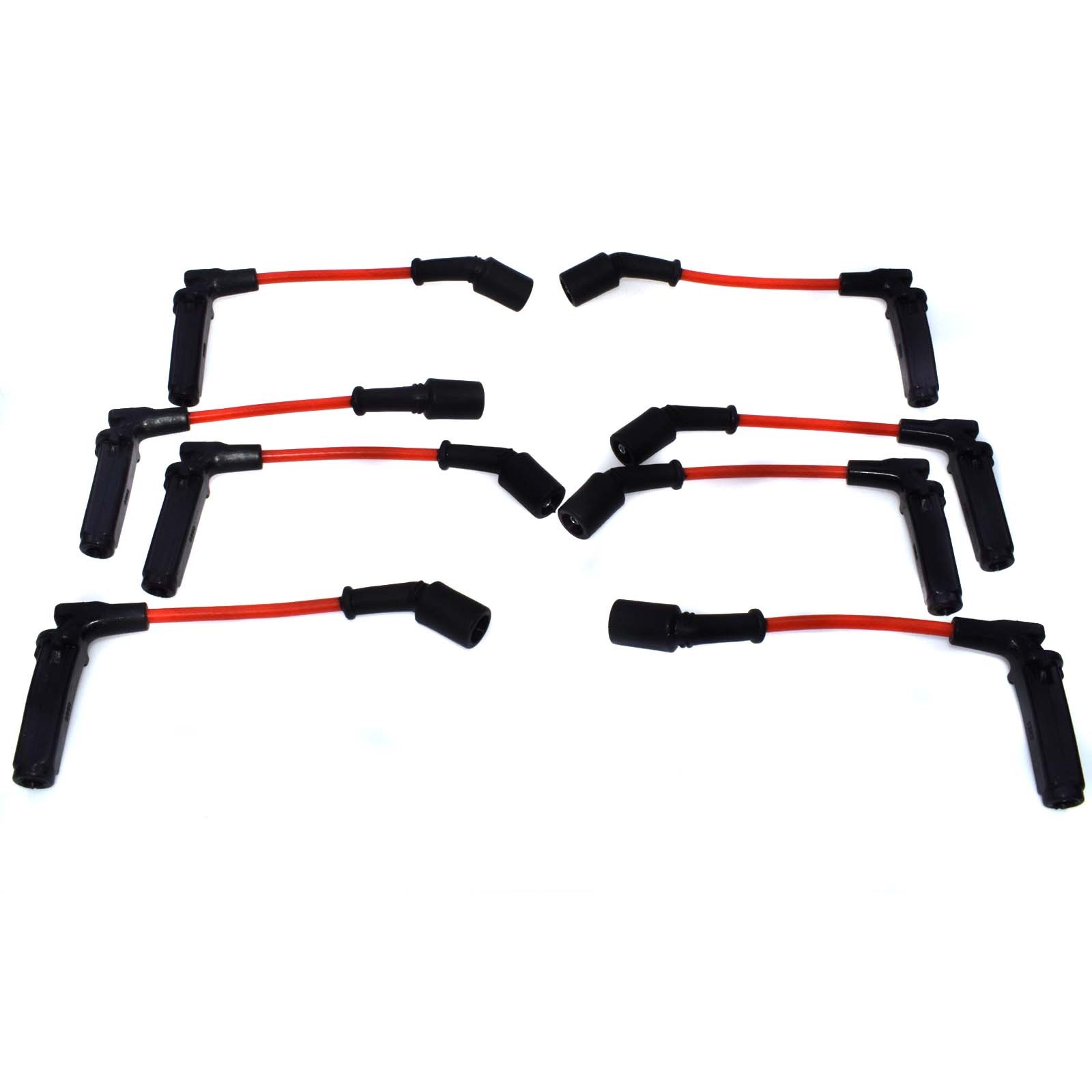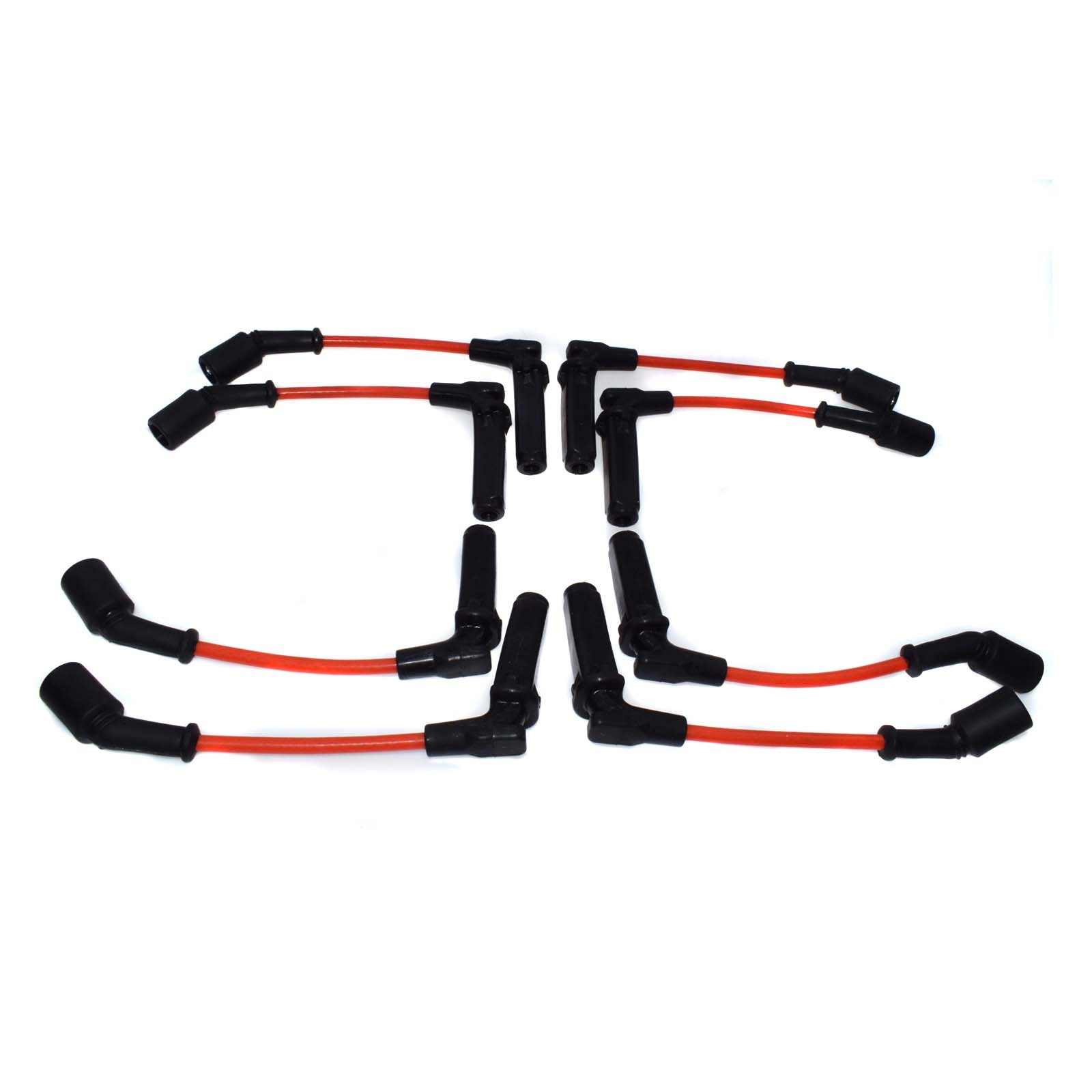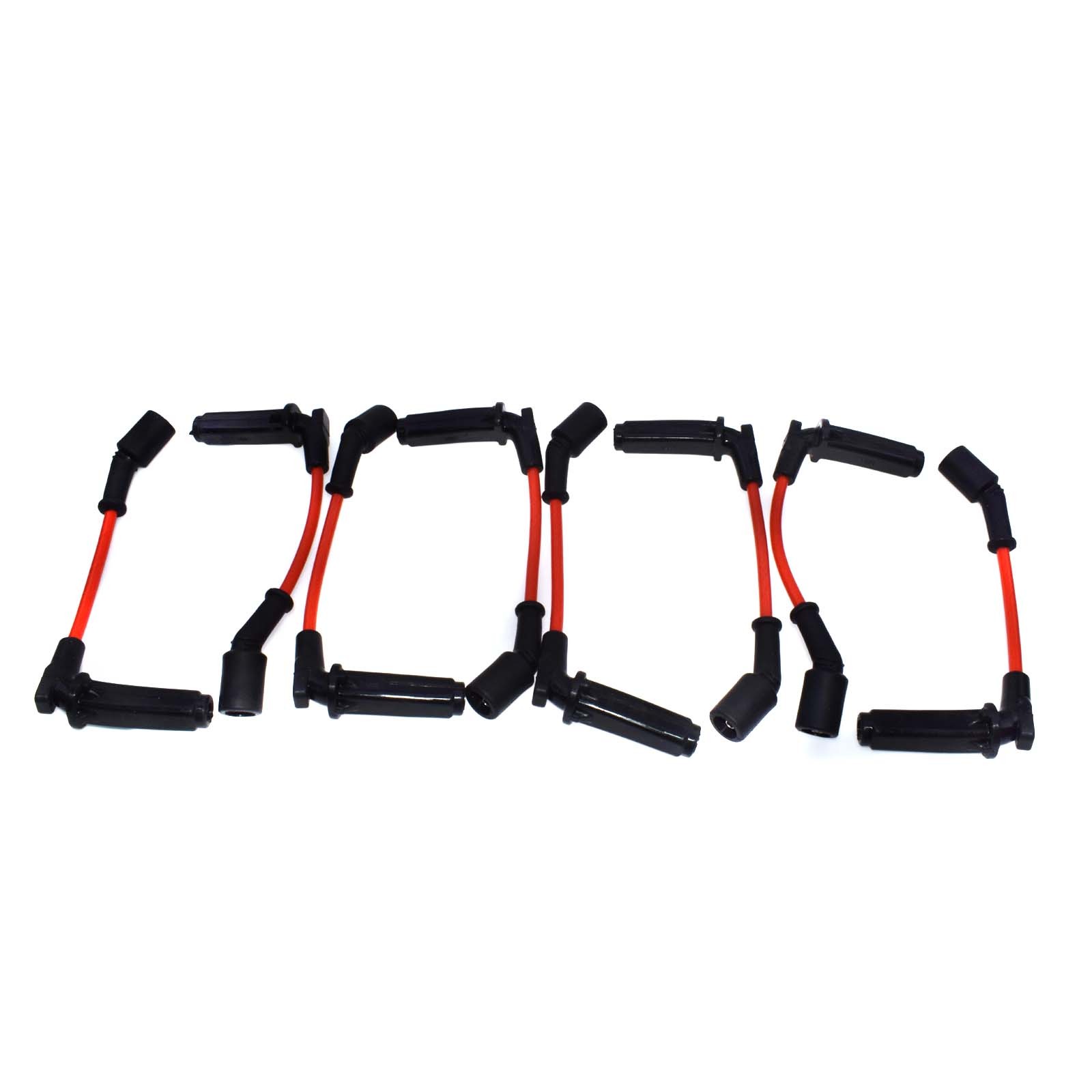 Product Description
Item specifics:
Manufacturer Part Number: 9748RR
Interchange Part Number: 9748RR 19297032
Package Include:
A set of 8 Spark Plug Wires as pictured
Fitment:
Buick Rainier 2006-2007
Buick LaCrosse 2008
Buick Allure 2008
Cadillac CTS 2006-2007
Cadillac Escalade EXT 2007-2008
Cadillac Escalade 2007-2008
Cadillac Escalade ESV 2007-2008
Chevrolet Express 3500 2008
Chevrolet Express 1500 2008
Chevrolet Express 2500 2008
Chevrolet Suburban 1500 2007-2008
Chevrolet Suburban 2500 2007-2008
Chevrolet Silverado 1500 2007-2008
Chevrolet Silverado 2500 2007-2008
Chevrolet Silverado 3500 2007-2008
Chevrolet Corvette 2005-2008
Chevrolet Trailblazer 2006-2008
Chevrolet Monte Carlo 2006-2007
Chevrolet Impala 2006-2008
Chevrolet Tahoe 2007-2008
Chevrolet Avalanche 2007-2008
GMC Envoy 2006-2008
GMC Yukon 2007-2008
GMC Yukon XL 1500 2007-2008
GMC Yukon XL 2500 2007-2008
GMC Sierra 2500 HD 2008
GMC Sierra 3500 HD 2007-2008
GMC Sierra 1500 2007-2008
GMC Sierra 1500 Classic 2007
GMC Savana 1500 2007-2008
GMC Savana 2500 2008
GMC Savana 3500 2008
Hummer H2 2008
Hummer H3 2008
Pontiac Grand Prix 2005-2008
Pontiac GTO 2005-2006
Saab 9-7x 2006-2007
Please check the compatibility table above for more detail information of vehicle application
*Your item will be carefully packed and shipped within three business day after payment received.
*Orders are not processed on weekend & holidays.
*Buyer need express mail service or international shipping issues, please contact us before placing the order.
*Local pick-up is unavailable at the moment.
Feedbacks are important not only to the seller but also buyer as well. If the transaction is to your liking, a positive feedback& 5star DSR is greatly appreciated. We welcome honest feedbacks.
But please do NOT leave any negative feedbacks before contacting us for resolution. After all, customer satisfaction is our No.1 goal!
We afford all cost if it's our fault. Exchange or refund.
We are an experienced company working on E-commerce for years. Custmer satisfaction is our NO.1 goal.
if you have any question ,welcome to contact us at once .we can help you !thank you !
Restocking Fee: No
Returns Accepted: Returns Accepted
Item must be returned within: 60 Days
Refund will be given as: Money Back
Return shipping will be paid by: Buyer
Brand: ACDelco
Non-Domestic Product: No
Fitment: Direct Fit Application, Check Fitment Chart
Fitment Type: Direct Replacement
Warranty: Yes
Other Part Number: ACDelco Professional OEM
Interchange Part Number: 9748RR 19297032
Product Type: Ignition Wires
Manufacturer Part Number: 9748RR
Warranty Info: 1 Year Replacement Warranty!
Custom Bundle: No
Superseded Part Number: 19297032
MPN: 9748RR
Packaging: in Box
UPC: 711766830045
SKU: 9748RR -8
Set 8x AcDelco Spark Plug Wire Set 9748RR For Pontiac Chevrolet Saab Buick 05-08 fits on the following vehicles. This is for your reference only, please check your auto manual to make sure it fits.
YEAR
MAKE
MODEL
TRIM
NOTES
2008
Buick
Allure
Super Sedan 4-Door 5.3L 5328CC 325Cu. In. V8 GAS OHV Naturally Aspirated
2008
Buick
LaCrosse
Super Sedan 4-Door 5.3L 5328CC 325Cu. In. V8 GAS OHV Naturally Aspirated
2008
Cadillac
Escalade
Base Sport Utility 4-Door 6.2L 6162CC 376Cu. In. V8 GAS OHV Naturally Aspirated
2008
Cadillac
Escalade
Platinum Sport Utility 4-Door 6.2L 6162CC 376Cu. In. V8 GAS OHV Naturally Aspirated
2008
Cadillac
Escalade ESV
Base Sport Utility 4-Door 6.2L 6162CC 376Cu. In. V8 GAS OHV Naturally Aspirated
2008
Cadillac
Escalade ESV
Platinum Sport Utility 4-Door 6.2L 6162CC 376Cu. In. V8 GAS OHV Naturally Aspirated
2008
Cadillac
Escalade EXT
Base Crew Cab Pickup 4-Door 6.2L 6162CC 376Cu. In. V8 GAS OHV Naturally Aspirated
2008
Chevrolet
Avalanche
Base Crew Cab Pickup 4-Door 5.3L 5328CC 325Cu. In. V8 FLEX OHV Naturally Aspirated
VIN: 3
2008
Chevrolet
Avalanche
LS Crew Cab Pickup 4-Door 5.3L 5328CC 325Cu. In. V8 FLEX OHV Naturally Aspirated
VIN: 3
2008
Chevrolet
Avalanche
LS Crew Cab Pickup 4-Door 5.3L 5328CC 325Cu. In. V8 GAS OHV Naturally Aspirated
VIN: 3
2008
Chevrolet
Avalanche
LT Crew Cab Pickup 4-Door 5.3L 5328CC 325Cu. In. V8 FLEX OHV Naturally Aspirated
VIN: 3
2008
Chevrolet
Avalanche
LT Crew Cab Pickup 4-Door 5.3L 5328CC 325Cu. In. V8 GAS OHV Naturally Aspirated
VIN: 3
2008
Chevrolet
Avalanche
LTZ Crew Cab Pickup 4-Door 5.3L 5328CC 325Cu. In. V8 FLEX OHV Naturally Aspirated
VIN: 3
2008
Chevrolet
Avalanche
LTZ Crew Cab Pickup 4-Door 5.3L 5328CC 325Cu. In. V8 GAS OHV Naturally Aspirated
VIN: 3
2008
Chevrolet
Corvette
427 Limited Edition Z06 Coupe 2-Door 7.0L 7011CC 427Cu. In. V8 GAS OHV Naturally Aspirated
VIN: E
2008
Chevrolet
Corvette
Z06 Coupe 2-Door 7.0L 7011CC 427Cu. In. V8 GAS OHV Naturally Aspirated
VIN: E
2008
Chevrolet
Express 1500
Base Standard Cargo Van 3-Door 5.3L 5328CC 325Cu. In. V8 FLEX OHV Naturally Aspirated
VIN: 4
2008
Chevrolet
Express 1500
Base Standard Cargo Van 3-Door 5.3L 5328CC 325Cu. In. V8 GAS OHV Naturally Aspirated
VIN: 4
2008
Chevrolet
Express 1500
Base Standard Cargo Van 4-Door 5.3L 5328CC 325Cu. In. V8 FLEX OHV Naturally Aspirated
VIN: 4
2008
Chevrolet
Express 1500
Base Standard Cargo Van 4-Door 5.3L 5328CC 325Cu. In. V8 GAS OHV Naturally Aspirated
VIN: 4
2008
Chevrolet
Express 1500
LS Standard Passenger Van 3-Door 5.3L 5328CC 325Cu. In. V8 FLEX OHV Naturally Aspirated
VIN: 4
2008
Chevrolet
Express 1500
LS Standard Passenger Van 3-Door 5.3L 5328CC 325Cu. In. V8 GAS OHV Naturally Aspirated
VIN: 4
2008
Chevrolet
Express 1500
LS Standard Passenger Van 4-Door 5.3L 5328CC 325Cu. In. V8 FLEX OHV Naturally Aspirated
VIN: 4
2008
Chevrolet
Express 1500
LS Standard Passenger Van 4-Door 5.3L 5328CC 325Cu. In. V8 GAS OHV Naturally Aspirated
VIN: 4
2008
Chevrolet
Express 1500
LT Standard Passenger Van 3-Door 5.3L 5328CC 325Cu. In. V8 FLEX OHV Naturally Aspirated
VIN: 4
2008
Chevrolet
Express 1500
LT Standard Passenger Van 3-Door 5.3L 5328CC 325Cu. In. V8 GAS OHV Naturally Aspirated
VIN: 4
2008
Chevrolet
Express 1500
LT Standard Passenger Van 4-Door 5.3L 5328CC 325Cu. In. V8 FLEX OHV Naturally Aspirated
VIN: 4
2008
Chevrolet
Express 1500
LT Standard Passenger Van 4-Door 5.3L 5328CC 325Cu. In. V8 GAS OHV Naturally Aspirated
VIN: 4
2008
Chevrolet
Express 2500
Base Extended Cargo Van 3-Door 4.8L 294Cu. In. V8 GAS OHV Naturally Aspirated
VIN: C
2008
Chevrolet
Express 2500
Base Extended Cargo Van 3-Door 6.0L 5967CC 364Cu. In. V8 GAS OHV Naturally Aspirated
VIN: K
2008
Chevrolet
Express 2500
Base Standard Cargo Van 3-Door 4.8L 294Cu. In. V8 GAS OHV Naturally Aspirated
VIN: C
2008
Chevrolet
Express 2500
Base Standard Cargo Van 3-Door 6.0L 5967CC 364Cu. In. V8 GAS OHV Naturally Aspirated
VIN: K
2008
Chevrolet
Express 2500
Base Standard Cargo Van 4-Door 4.8L 294Cu. In. V8 GAS OHV Naturally Aspirated
VIN: C
2008
Chevrolet
Express 2500
Base Standard Cargo Van 4-Door 6.0L 5967CC 364Cu. In. V8 GAS OHV Naturally Aspirated
VIN: K
2008
Chevrolet
Express 2500
LS Standard Passenger Van 3-Door 6.0L 5967CC 364Cu. In. V8 GAS OHV Naturally Aspirated
VIN: K
2008
Chevrolet
Express 2500
LS Standard Passenger Van 4-Door 6.0L 5967CC 364Cu. In. V8 GAS OHV Naturally Aspirated
VIN: K
2008
Chevrolet
Express 2500
LT Standard Passenger Van 3-Door 6.0L 5967CC 364Cu. In. V8 GAS OHV Naturally Aspirated
VIN: K
2008
Chevrolet
Express 2500
LT Standard Passenger Van 4-Door 6.0L 5967CC 364Cu. In. V8 GAS OHV Naturally Aspirated
VIN: K
2008
Chevrolet
Express 3500
Base Cutaway Van 2-Door 4.8L 294Cu. In. V8 GAS OHV Naturally Aspirated
2008
Chevrolet
Express 3500
Base Cutaway Van 2-Door 6.0L 5967CC 364Cu. In. V8 GAS OHV Naturally Aspirated
2008
Chevrolet
Express 3500
Base Extended Cargo Van 3-Door 4.8L 294Cu. In. V8 GAS OHV Naturally Aspirated
2008
Chevrolet
Express 3500
Base Extended Cargo Van 3-Door 6.0L 5967CC 364Cu. In. V8 GAS OHV Naturally Aspirated
2008
Chevrolet
Express 3500
Base Standard Cargo Van 3-Door 4.8L 294Cu. In. V8 GAS OHV Naturally Aspirated
2008
Chevrolet
Express 3500
Base Standard Cargo Van 3-Door 6.0L 5967CC 364Cu. In. V8 GAS OHV Naturally Aspirated
2008
Chevrolet
Express 3500
Base Standard Cargo Van 4-Door 4.8L 294Cu. In. V8 GAS OHV Naturally Aspirated
2008
Chevrolet
Express 3500
Base Standard Cargo Van 4-Door 6.0L 5967CC 364Cu. In. V8 GAS OHV Naturally Aspirated
2008
Chevrolet
Express 3500
LS Extended Passenger Van 3-Door 6.0L 5967CC 364Cu. In. V8 GAS OHV Naturally Aspirated
2008
Chevrolet
Express 3500
LS Standard Passenger Van 3-Door 6.0L 5967CC 364Cu. In. V8 GAS OHV Naturally Aspirated
2008
Chevrolet
Express 3500
LS Standard Passenger Van 4-Door 6.0L 5967CC 364Cu. In. V8 GAS OHV Naturally Aspirated
2008
Chevrolet
Express 3500
LT Extended Passenger Van 3-Door 6.0L 5967CC 364Cu. In. V8 GAS OHV Naturally Aspirated
2008
Chevrolet
Express 3500
LT Standard Passenger Van 3-Door 6.0L 5967CC 364Cu. In. V8 GAS OHV Naturally Aspirated
2008
Chevrolet
Express 3500
LT Standard Passenger Van 4-Door 6.0L 5967CC 364Cu. In. V8 GAS OHV Naturally Aspirated
2008
Chevrolet
Impala
SS Sedan 4-Door 5.3L 5328CC 325Cu. In. V8 GAS OHV Naturally Aspirated
VIN: C
2008
Chevrolet
Silverado 1500
Base Standard Cab Pickup 2-Door 5.3L 5328CC 325Cu. In. V8 GAS OHV Naturally Aspirated
VIN: 3
2008
Chevrolet
Silverado 1500
LS Crew Cab Pickup 4-Door 4.8L 294Cu. In. V8 GAS OHV Naturally Aspirated
VIN: C
2008
Chevrolet
Silverado 1500
LT Crew Cab Pickup 4-Door 4.8L 294Cu. In. V8 GAS OHV Naturally Aspirated
VIN: C
2008
Chevrolet
Silverado 1500
LT Crew Cab Pickup 4-Door 5.3L 5328CC 325Cu. In. V8 FLEX OHV Naturally Aspirated
VIN: 3
2008
Chevrolet
Silverado 1500
LT Crew Cab Pickup 4-Door 5.3L 5328CC 325Cu. In. V8 GAS OHV Naturally Aspirated
VIN: M
2008
Chevrolet
Silverado 1500
LT Extended Cab Pickup 4-Door 4.8L 294Cu. In. V8 GAS OHV Naturally Aspirated
VIN: C
2008
Chevrolet
Silverado 1500
LT Extended Cab Pickup 4-Door 5.3L 5328CC 325Cu. In. V8 FLEX OHV Naturally Aspirated
VIN: 3
2008
Chevrolet
Silverado 1500
LT Extended Cab Pickup 4-Door 5.3L 5328CC 325Cu. In. V8 GAS OHV Naturally Aspirated
VIN: M
2008
Chevrolet
Silverado 1500
LT Standard Cab Pickup 2-Door 4.8L 294Cu. In. V8 GAS OHV Naturally Aspirated
VIN: C
2008
Chevrolet
Silverado 1500
LT Standard Cab Pickup 2-Door 5.3L 5328CC 325Cu. In. V8 FLEX OHV Naturally Aspirated
VIN: 3
2008
Chevrolet
Silverado 1500
LT Standard Cab Pickup 2-Door 5.3L 5328CC 325Cu. In. V8 GAS OHV Naturally Aspirated
VIN: M
2008
Chevrolet
Silverado 1500
LTZ Crew Cab Pickup 4-Door 5.3L 5328CC 325Cu. In. V8 FLEX OHV Naturally Aspirated
VIN: 3
2008
Chevrolet
Silverado 1500
LTZ Crew Cab Pickup 4-Door 5.3L 5328CC 325Cu. In. V8 GAS OHV Naturally Aspirated
VIN: M
2008
Chevrolet
Silverado 1500
LTZ Extended Cab Pickup 4-Door 5.3L 5328CC 325Cu. In. V8 FLEX OHV Naturally Aspirated
VIN: 3
2008
Chevrolet
Silverado 1500
LTZ Extended Cab Pickup 4-Door 5.3L 5328CC 325Cu. In. V8 GAS OHV Naturally Aspirated
VIN: M
2008
Chevrolet
Silverado 1500
WT Crew Cab Pickup 4-Door 4.8L 294Cu. In. V8 GAS OHV Naturally Aspirated
VIN: C
2008
Chevrolet
Silverado 1500
WT Crew Cab Pickup 4-Door 5.3L 5328CC 325Cu. In. V8 FLEX OHV Naturally Aspirated
VIN: 3
2008
Chevrolet
Silverado 1500
WT Crew Cab Pickup 4-Door 5.3L 5328CC 325Cu. In. V8 GAS OHV Naturally Aspirated
VIN: M
2008
Chevrolet
Silverado 1500
WT Extended Cab Pickup 4-Door 4.8L 294Cu. In. V8 GAS OHV Naturally Aspirated
VIN: C
2008
Chevrolet
Silverado 1500
WT Extended Cab Pickup 4-Door 5.3L 5328CC 325Cu. In. V8 FLEX OHV Naturally Aspirated
VIN: 3
2008
Chevrolet
Silverado 1500
WT Extended Cab Pickup 4-Door 5.3L 5328CC 325Cu. In. V8 GAS OHV Naturally Aspirated
VIN: M
2008
Chevrolet
Silverado 1500
WT Standard Cab Pickup 2-Door 4.8L 294Cu. In. V8 GAS OHV Naturally Aspirated
VIN: C
2008
Chevrolet
Silverado 1500
WT Standard Cab Pickup 2-Door 5.3L 5328CC 325Cu. In. V8 FLEX OHV Naturally Aspirated
VIN: 3
2008
Chevrolet
Silverado 1500
WT Standard Cab Pickup 2-Door 5.3L 5328CC 325Cu. In. V8 GAS OHV Naturally Aspirated
VIN: M
2008
Chevrolet
Silverado 2500 HD
LT Cab & Chassis 2-Door 6.0L 5967CC 364Cu. In. V8 GAS OHV Naturally Aspirated
VIN: K
2008
Chevrolet
Silverado 2500 HD
LT Cab & Chassis 4-Door 6.0L 5967CC 364Cu. In. V8 GAS OHV Naturally Aspirated
VIN: K
2008
Chevrolet
Silverado 2500 HD
LT Crew Cab Pickup 4-Door 6.0L 5967CC 364Cu. In. V8 GAS OHV Naturally Aspirated
VIN: K
2008
Chevrolet
Silverado 2500 HD
LT Extended Cab Pickup 4-Door 6.0L 5967CC 364Cu. In. V8 GAS OHV Naturally Aspirated
VIN: K
2008
Chevrolet
Silverado 2500 HD
LT Standard Cab Pickup 2-Door 6.0L 5967CC 364Cu. In. V8 GAS OHV Naturally Aspirated
VIN: K
2008
Chevrolet
Silverado 2500 HD
LTZ Cab & Chassis 4-Door 6.0L 5967CC 364Cu. In. V8 GAS OHV Naturally Aspirated
VIN: K
2008
Chevrolet
Silverado 2500 HD
LTZ Crew Cab Pickup 4-Door 6.0L 5967CC 364Cu. In. V8 GAS OHV Naturally Aspirated
VIN: K
2008
Chevrolet
Silverado 2500 HD
LTZ Extended Cab Pickup 4-Door 6.0L 5967CC 364Cu. In. V8 GAS OHV Naturally Aspirated
VIN: K
2008
Chevrolet
Silverado 2500 HD
WT Cab & Chassis 2-Door 6.0L 5967CC 364Cu. In. V8 GAS OHV Naturally Aspirated
VIN: K
2008
Chevrolet
Silverado 2500 HD
WT Cab & Chassis 4-Door 6.0L 5967CC 364Cu. In. V8 GAS OHV Naturally Aspirated
VIN: K
2008
Chevrolet
Silverado 2500 HD
WT Crew Cab Pickup 4-Door 6.0L 5967CC 364Cu. In. V8 GAS OHV Naturally Aspirated
VIN: K
2008
Chevrolet
Silverado 2500 HD
WT Extended Cab Pickup 4-Door 6.0L 5967CC 364Cu. In. V8 GAS OHV Naturally Aspirated
VIN: K
2008
Chevrolet
Silverado 2500 HD
WT Standard Cab Pickup 2-Door 6.0L 5967CC 364Cu. In. V8 GAS OHV Naturally Aspirated
VIN: K
2008
Chevrolet
Silverado 3500 HD
LT Cab & Chassis 2-Door 6.0L 5967CC 364Cu. In. V8 GAS OHV Naturally Aspirated
VIN: K
2008
Chevrolet
Silverado 3500 HD
LT Cab & Chassis 4-Door 6.0L 5967CC 364Cu. In. V8 GAS OHV Naturally Aspirated
VIN: K
2008
Chevrolet
Silverado 3500 HD
LT Crew Cab Pickup 4-Door 6.0L 5967CC 364Cu. In. V8 GAS OHV Naturally Aspirated
VIN: K
2008
Chevrolet
Silverado 3500 HD
LT Extended Cab Pickup 4-Door 6.0L 5967CC 364Cu. In. V8 GAS OHV Naturally Aspirated
VIN: K
2008
Chevrolet
Silverado 3500 HD
LT Standard Cab Pickup 2-Door 6.0L 5967CC 364Cu. In. V8 GAS OHV Naturally Aspirated
VIN: K
2008
Chevrolet
Silverado 3500 HD
LTZ Cab & Chassis 4-Door 6.0L 5967CC 364Cu. In. V8 GAS OHV Naturally Aspirated
VIN: K
2008
Chevrolet
Silverado 3500 HD
LTZ Crew Cab Pickup 4-Door 6.0L 5967CC 364Cu. In. V8 GAS OHV Naturally Aspirated
VIN: K
2008
Chevrolet
Silverado 3500 HD
LTZ Extended Cab Pickup 4-Door 6.0L 5967CC 364Cu. In. V8 GAS OHV Naturally Aspirated
VIN: K
2008
Chevrolet
Silverado 3500 HD
WT Cab & Chassis 2-Door 6.0L 5967CC 364Cu. In. V8 GAS OHV Naturally Aspirated
VIN: K
2008
Chevrolet
Silverado 3500 HD
WT Cab & Chassis 4-Door 6.0L 5967CC 364Cu. In. V8 GAS OHV Naturally Aspirated
VIN: K
2008
Chevrolet
Silverado 3500 HD
WT Crew Cab Pickup 4-Door 6.0L 5967CC 364Cu. In. V8 GAS OHV Naturally Aspirated
VIN: K
2008
Chevrolet
Silverado 3500 HD
WT Extended Cab Pickup 4-Door 6.0L 5967CC 364Cu. In. V8 GAS OHV Naturally Aspirated
VIN: K
2008
Chevrolet
Silverado 3500 HD
WT Standard Cab Pickup 2-Door 6.0L 5967CC 364Cu. In. V8 GAS OHV Naturally Aspirated
VIN: K
2008
Chevrolet
Suburban 1500
Base Sport Utility 4-Door 5.3L 5328CC 325Cu. In. V8 GAS OHV Naturally Aspirated
VIN: 3
2008
Chevrolet
Suburban 1500
LS Sport Utility 4-Door 5.3L 5328CC 325Cu. In. V8 FLEX OHV Naturally Aspirated
VIN: 3
2008
Chevrolet
Suburban 1500
LS Sport Utility 4-Door 5.3L 5328CC 325Cu. In. V8 GAS OHV Naturally Aspirated
VIN: 3
2008
Chevrolet
Suburban 1500
LT Sport Utility 4-Door 5.3L 5328CC 325Cu. In. V8 FLEX OHV Naturally Aspirated
VIN: 3
2008
Chevrolet
Suburban 1500
LT Sport Utility 4-Door 5.3L 5328CC 325Cu. In. V8 GAS OHV Naturally Aspirated
VIN: 3
2008
Chevrolet
Suburban 1500
LTZ Sport Utility 4-Door 5.3L 5328CC 325Cu. In. V8 FLEX OHV Naturally Aspirated
VIN: 3
2008
Chevrolet
Suburban 1500
LTZ Sport Utility 4-Door 5.3L 5328CC 325Cu. In. V8 GAS OHV Naturally Aspirated
VIN: 3
2008
Chevrolet
Suburban 2500
LS Sport Utility 4-Door 6.0L 5967CC 364Cu. In. V8 GAS OHV Naturally Aspirated
VIN: K
2008
Chevrolet
Suburban 2500
LT Sport Utility 4-Door 6.0L 5967CC 364Cu. In. V8 GAS OHV Naturally Aspirated
VIN: K
2008
Chevrolet
Tahoe
Base Sport Utility 4-Door 5.3L 5328CC 325Cu. In. V8 GAS OHV Naturally Aspirated
VIN: 0
2008
Chevrolet
Tahoe
LS Sport Utility 4-Door 4.8L 294Cu. In. V8 GAS OHV Naturally Aspirated
VIN: C
2008
Chevrolet
Tahoe
LS Sport Utility 4-Door 5.3L 5328CC 325Cu. In. V8 FLEX OHV Naturally Aspirated
VIN: 0
2008
Chevrolet
Tahoe
LS Sport Utility 4-Door 5.3L 5328CC 325Cu. In. V8 GAS OHV Naturally Aspirated
VIN: 0
2008
Chevrolet
Tahoe
LT Sport Utility 4-Door 5.3L 5328CC 325Cu. In. V8 FLEX OHV Naturally Aspirated
VIN: 0
2008
Chevrolet
Tahoe
LT Sport Utility 4-Door 5.3L 5328CC 325Cu. In. V8 GAS OHV Naturally Aspirated
VIN: 0
2008
Chevrolet
Tahoe
LTZ Sport Utility 4-Door 5.3L 5328CC 325Cu. In. V8 FLEX OHV Naturally Aspirated
VIN: 0
2008
Chevrolet
Tahoe
LTZ Sport Utility 4-Door 5.3L 5328CC 325Cu. In. V8 GAS OHV Naturally Aspirated
VIN: 0
2008
Chevrolet
Tahoe
Z71 Sport Utility 4-Door 5.3L 5328CC 325Cu. In. V8 GAS OHV Naturally Aspirated
VIN: 0
2008
Chevrolet
Trailblazer
Base Sport Utility 4-Door 5.3L 5328CC 325Cu. In. V8 GAS OHV Naturally Aspirated
VIN: M
2008
Chevrolet
Trailblazer
LT Sport Utility 4-Door 5.3L 5328CC 325Cu. In. V8 GAS OHV Naturally Aspirated
VIN: M
2008
Chevrolet
Trailblazer
SS Sport Utility 4-Door 6.0L 5967CC 364Cu. In. V8 GAS OHV Naturally Aspirated
VIN: H
2008
GMC
Envoy
Denali Sport Utility 4-Door 5.3L 5328CC 325Cu. In. V8 GAS OHV Naturally Aspirated
VIN: M
2008
GMC
Savana 1500
Base Standard Cargo Van 3-Door 5.3L 5328CC 325Cu. In. V8 FLEX OHV Naturally Aspirated
VIN: 4
2008
GMC
Savana 1500
Base Standard Cargo Van 3-Door 5.3L 5328CC 325Cu. In. V8 GAS OHV Naturally Aspirated
VIN: 4
2008
GMC
Savana 1500
Base Standard Cargo Van 4-Door 5.3L 5328CC 325Cu. In. V8 FLEX OHV Naturally Aspirated
VIN: 4
2008
GMC
Savana 1500
Base Standard Cargo Van 4-Door 5.3L 5328CC 325Cu. In. V8 GAS OHV Naturally Aspirated
VIN: 4
2008
GMC
Savana 1500
LS Standard Passenger Van 3-Door 5.3L 5328CC 325Cu. In. V8 FLEX OHV Naturally Aspirated
VIN: 4
2008
GMC
Savana 1500
LS Standard Passenger Van 3-Door 5.3L 5328CC 325Cu. In. V8 GAS OHV Naturally Aspirated
VIN: 4
2008
GMC
Savana 1500
LS Standard Passenger Van 4-Door 5.3L 5328CC 325Cu. In. V8 FLEX OHV Naturally Aspirated
VIN: 4
2008
GMC
Savana 1500
LS Standard Passenger Van 4-Door 5.3L 5328CC 325Cu. In. V8 GAS OHV Naturally Aspirated
VIN: 4
2008
GMC
Savana 1500
LT Standard Passenger Van 3-Door 5.3L 5328CC 325Cu. In. V8 FLEX OHV Naturally Aspirated
VIN: 4
2008
GMC
Savana 1500
LT Standard Passenger Van 3-Door 5.3L 5328CC 325Cu. In. V8 GAS OHV Naturally Aspirated
VIN: 4
2008
GMC
Savana 1500
LT Standard Passenger Van 4-Door 5.3L 5328CC 325Cu. In. V8 FLEX OHV Naturally Aspirated
VIN: 4
2008
GMC
Savana 1500
LT Standard Passenger Van 4-Door 5.3L 5328CC 325Cu. In. V8 GAS OHV Naturally Aspirated
VIN: 4
2008
GMC
Savana 2500
Base Extended Cargo Van 3-Door 4.8L 294Cu. In. V8 GAS OHV Naturally Aspirated
2008
GMC
Savana 2500
Base Extended Cargo Van 3-Door 6.0L 5967CC 364Cu. In. V8 GAS OHV Naturally Aspirated
2008
GMC
Savana 2500
Base Standard Cargo Van 3-Door 4.8L 294Cu. In. V8 GAS OHV Naturally Aspirated
2008
GMC
Savana 2500
Base Standard Cargo Van 3-Door 6.0L 5967CC 364Cu. In. V8 GAS OHV Naturally Aspirated
2008
GMC
Savana 2500
Base Standard Cargo Van 4-Door 4.8L 294Cu. In. V8 GAS OHV Naturally Aspirated
2008
GMC
Savana 2500
Base Standard Cargo Van 4-Door 6.0L 5967CC 364Cu. In. V8 GAS OHV Naturally Aspirated
2008
GMC
Savana 2500
LS Standard Passenger Van 3-Door 6.0L 5967CC 364Cu. In. V8 GAS OHV Naturally Aspirated
2008
GMC
Savana 2500
LS Standard Passenger Van 4-Door 6.0L 5967CC 364Cu. In. V8 GAS OHV Naturally Aspirated
2008
GMC
Savana 2500
LT Standard Passenger Van 3-Door 6.0L 5967CC 364Cu. In. V8 GAS OHV Naturally Aspirated
2008
GMC
Savana 2500
LT Standard Passenger Van 4-Door 6.0L 5967CC 364Cu. In. V8 GAS OHV Naturally Aspirated
2008
GMC
Savana 3500
Base Cutaway Van 2-Door 4.8L 294Cu. In. V8 GAS OHV Naturally Aspirated
2008
GMC
Savana 3500
Base Cutaway Van 2-Door 6.0L 5967CC 364Cu. In. V8 GAS OHV Naturally Aspirated
2008
GMC
Savana 3500
Base Extended Cargo Van 3-Door 4.8L 294Cu. In. V8 GAS OHV Naturally Aspirated
2008
GMC
Savana 3500
Base Extended Cargo Van 3-Door 6.0L 5967CC 364Cu. In. V8 GAS OHV Naturally Aspirated
2008
GMC
Savana 3500
Base Standard Cargo Van 3-Door 4.8L 294Cu. In. V8 GAS OHV Naturally Aspirated
2008
GMC
Savana 3500
Base Standard Cargo Van 3-Door 6.0L 5967CC 364Cu. In. V8 GAS OHV Naturally Aspirated
2008
GMC
Savana 3500
Base Standard Cargo Van 4-Door 4.8L 294Cu. In. V8 GAS OHV Naturally Aspirated
2008
GMC
Savana 3500
Base Standard Cargo Van 4-Door 6.0L 5967CC 364Cu. In. V8 GAS OHV Naturally Aspirated
2008
GMC
Savana 3500
LS Extended Passenger Van 3-Door 6.0L 5967CC 364Cu. In. V8 GAS OHV Naturally Aspirated
2008
GMC
Savana 3500
LS Standard Passenger Van 3-Door 6.0L 5967CC 364Cu. In. V8 GAS OHV Naturally Aspirated
2008
GMC
Savana 3500
LS Standard Passenger Van 4-Door 6.0L 5967CC 364Cu. In. V8 GAS OHV Naturally Aspirated
2008
GMC
Savana 3500
LT Extended Passenger Van 3-Door 6.0L 5967CC 364Cu. In. V8 GAS OHV Naturally Aspirated
2008
GMC
Savana 3500
LT Standard Passenger Van 3-Door 6.0L 5967CC 364Cu. In. V8 GAS OHV Naturally Aspirated
2008
GMC
Savana 3500
LT Standard Passenger Van 4-Door 6.0L 5967CC 364Cu. In. V8 GAS OHV Naturally Aspirated
2008
GMC
Sierra 1500
Denali Crew Cab Pickup 4-Door 6.2L 6162CC 376Cu. In. V8 GAS OHV Naturally Aspirated
2008
GMC
Sierra 1500
SL Crew Cab Pickup 4-Door 4.8L 294Cu. In. V8 GAS OHV Naturally Aspirated
2008
GMC
Sierra 1500
SLE Crew Cab Pickup 4-Door 4.8L 294Cu. In. V8 GAS OHV Naturally Aspirated
2008
GMC
Sierra 1500
SLE Crew Cab Pickup 4-Door 5.3L 5328CC 325Cu. In. V8 FLEX OHV Naturally Aspirated
VIN: 3
2008
GMC
Sierra 1500
SLE Crew Cab Pickup 4-Door 5.3L 5328CC 325Cu. In. V8 GAS OHV Naturally Aspirated
VIN: M
2008
GMC
Sierra 1500
SLE Extended Cab Pickup 4-Door 4.8L 294Cu. In. V8 GAS OHV Naturally Aspirated
2008
GMC
Sierra 1500
SLE Extended Cab Pickup 4-Door 5.3L 5328CC 325Cu. In. V8 FLEX OHV Naturally Aspirated
VIN: 3
2008
GMC
Sierra 1500
SLE Extended Cab Pickup 4-Door 5.3L 5328CC 325Cu. In. V8 GAS OHV Naturally Aspirated
VIN: M
2008
GMC
Sierra 1500
SLE Standard Cab Pickup 2-Door 4.8L 294Cu. In. V8 GAS OHV Naturally Aspirated
2008
GMC
Sierra 1500
SLE Standard Cab Pickup 2-Door 5.3L 5328CC 325Cu. In. V8 FLEX OHV Naturally Aspirated
VIN: 3
2008
GMC
Sierra 1500
SLE Standard Cab Pickup 2-Door 5.3L 5328CC 325Cu. In. V8 GAS OHV Naturally Aspirated
VIN: M
2008
GMC
Sierra 1500
SLT Crew Cab Pickup 4-Door 5.3L 5328CC 325Cu. In. V8 FLEX OHV Naturally Aspirated
VIN: 3
2008
GMC
Sierra 1500
SLT Crew Cab Pickup 4-Door 5.3L 5328CC 325Cu. In. V8 GAS OHV Naturally Aspirated
VIN: M
2008
GMC
Sierra 1500
SLT Extended Cab Pickup 4-Door 5.3L 5328CC 325Cu. In. V8 FLEX OHV Naturally Aspirated
VIN: 3
2008
GMC
Sierra 1500
SLT Extended Cab Pickup 4-Door 5.3L 5328CC 325Cu. In. V8 GAS OHV Naturally Aspirated
VIN: M
2008
GMC
Sierra 1500
WT Crew Cab Pickup 4-Door 4.8L 294Cu. In. V8 GAS OHV Naturally Aspirated
2008
GMC
Sierra 1500
WT Crew Cab Pickup 4-Door 5.3L 5328CC 325Cu. In. V8 FLEX OHV Naturally Aspirated
VIN: 3
2008
GMC
Sierra 1500
WT Crew Cab Pickup 4-Door 5.3L 5328CC 325Cu. In. V8 GAS OHV Naturally Aspirated
VIN: M
2008
GMC
Sierra 1500
WT Extended Cab Pickup 4-Door 4.8L 294Cu. In. V8 GAS OHV Naturally Aspirated
2008
GMC
Sierra 1500
WT Extended Cab Pickup 4-Door 5.3L 5328CC 325Cu. In. V8 FLEX OHV Naturally Aspirated
VIN: 3
2008
GMC
Sierra 1500
WT Extended Cab Pickup 4-Door 5.3L 5328CC 325Cu. In. V8 GAS OHV Naturally Aspirated
VIN: M
2008
GMC
Sierra 1500
WT Standard Cab Pickup 2-Door 4.8L 294Cu. In. V8 GAS OHV Naturally Aspirated
2008
GMC
Sierra 1500
WT Standard Cab Pickup 2-Door 5.3L 5328CC 325Cu. In. V8 FLEX OHV Naturally Aspirated
VIN: 3
2008
GMC
Sierra 1500
WT Standard Cab Pickup 2-Door 5.3L 5328CC 325Cu. In. V8 GAS OHV Naturally Aspirated
VIN: M
2008
GMC
Sierra 2500 HD
SLE Cab & Chassis 2-Door 6.0L 5967CC 364Cu. In. V8 GAS OHV Naturally Aspirated
2008
GMC
Sierra 2500 HD
SLE Cab & Chassis 4-Door 6.0L 5967CC 364Cu. In. V8 GAS OHV Naturally Aspirated
2008
GMC
Sierra 2500 HD
SLE Crew Cab Pickup 4-Door 6.0L 5967CC 364Cu. In. V8 GAS OHV Naturally Aspirated
2008
GMC
Sierra 2500 HD
SLE Extended Cab Pickup 4-Door 6.0L 5967CC 364Cu. In. V8 GAS OHV Naturally Aspirated
2008
GMC
Sierra 2500 HD
SLE Standard Cab Pickup 2-Door 6.0L 5967CC 364Cu. In. V8 GAS OHV Naturally Aspirated
2008
GMC
Sierra 2500 HD
SLT Cab & Chassis 4-Door 6.0L 5967CC 364Cu. In. V8 GAS OHV Naturally Aspirated
2008
GMC
Sierra 2500 HD
SLT Crew Cab Pickup 4-Door 6.0L 5967CC 364Cu. In. V8 GAS OHV Naturally Aspirated
2008
GMC
Sierra 2500 HD
SLT Extended Cab Pickup 4-Door 6.0L 5967CC 364Cu. In. V8 GAS OHV Naturally Aspirated
2008
GMC
Sierra 2500 HD
WT Cab & Chassis 2-Door 6.0L 5967CC 364Cu. In. V8 GAS OHV Naturally Aspirated
2008
GMC
Sierra 2500 HD
WT Cab & Chassis 4-Door 6.0L 5967CC 364Cu. In. V8 GAS OHV Naturally Aspirated
2008
GMC
Sierra 2500 HD
WT Crew Cab Pickup 4-Door 6.0L 5967CC 364Cu. In. V8 GAS OHV Naturally Aspirated
2008
GMC
Sierra 2500 HD
WT Extended Cab Pickup 4-Door 6.0L 5967CC 364Cu. In. V8 GAS OHV Naturally Aspirated
2008
GMC
Sierra 2500 HD
WT Standard Cab Pickup 2-Door 6.0L 5967CC 364Cu. In. V8 GAS OHV Naturally Aspirated
2008
GMC
Sierra 3500 HD
SLE Cab & Chassis 2-Door 6.0L 5967CC 364Cu. In. V8 GAS OHV Naturally Aspirated
2008
GMC
Sierra 3500 HD
SLE Cab & Chassis 4-Door 6.0L 5967CC 364Cu. In. V8 GAS OHV Naturally Aspirated
2008
GMC
Sierra 3500 HD
SLE Crew Cab Pickup 4-Door 6.0L 5967CC 364Cu. In. V8 GAS OHV Naturally Aspirated
2008
GMC
Sierra 3500 HD
SLE Extended Cab Pickup 4-Door 6.0L 5967CC 364Cu. In. V8 GAS OHV Naturally Aspirated
2008
GMC
Sierra 3500 HD
SLE Standard Cab Pickup 2-Door 6.0L 5967CC 364Cu. In. V8 GAS OHV Naturally Aspirated
2008
GMC
Sierra 3500 HD
SLT Cab & Chassis 4-Door 6.0L 5967CC 364Cu. In. V8 GAS OHV Naturally Aspirated
2008
GMC
Sierra 3500 HD
SLT Crew Cab Pickup 4-Door 6.0L 5967CC 364Cu. In. V8 GAS OHV Naturally Aspirated
2008
GMC
Sierra 3500 HD
SLT Extended Cab Pickup 4-Door 6.0L 5967CC 364Cu. In. V8 GAS OHV Naturally Aspirated
2008
GMC
Sierra 3500 HD
WT Cab & Chassis 2-Door 6.0L 5967CC 364Cu. In. V8 GAS OHV Naturally Aspirated
2008
GMC
Sierra 3500 HD
WT Cab & Chassis 4-Door 6.0L 5967CC 364Cu. In. V8 GAS OHV Naturally Aspirated
2008
GMC
Sierra 3500 HD
WT Crew Cab Pickup 4-Door 6.0L 5967CC 364Cu. In. V8 GAS OHV Naturally Aspirated
2008
GMC
Sierra 3500 HD
WT Extended Cab Pickup 4-Door 6.0L 5967CC 364Cu. In. V8 GAS OHV Naturally Aspirated
2008
GMC
Sierra 3500 HD
WT Standard Cab Pickup 2-Door 6.0L 5967CC 364Cu. In. V8 GAS OHV Naturally Aspirated
2008
GMC
Yukon
Base Sport Utility 4-Door 5.3L 5328CC 325Cu. In. V8 GAS OHV Naturally Aspirated
VIN: 0
2008
GMC
Yukon
Denali Sport Utility 4-Door 6.2L 6162CC 376Cu. In. V8 GAS OHV Naturally Aspirated
2008
GMC
Yukon
SLE Sport Utility 4-Door 4.8L 294Cu. In. V8 GAS OHV Naturally Aspirated
2008
GMC
Yukon
SLE Sport Utility 4-Door 5.3L 5328CC 325Cu. In. V8 FLEX OHV Naturally Aspirated
VIN: 0
2008
GMC
Yukon
SLE Sport Utility 4-Door 5.3L 5328CC 325Cu. In. V8 GAS OHV Naturally Aspirated
VIN: 0
2008
GMC
Yukon
SLT Sport Utility 4-Door 5.3L 5328CC 325Cu. In. V8 FLEX OHV Naturally Aspirated
VIN: 0
2008
GMC
Yukon
SLT Sport Utility 4-Door 5.3L 5328CC 325Cu. In. V8 GAS OHV Naturally Aspirated
VIN: 0
2008
GMC
Yukon XL 1500
Denali Sport Utility 4-Door 6.2L 6162CC 376Cu. In. V8 GAS OHV Naturally Aspirated
2008
GMC
Yukon XL 1500
SLE Sport Utility 4-Door 5.3L 5328CC 325Cu. In. V8 FLEX OHV Naturally Aspirated
VIN: 3
2008
GMC
Yukon XL 1500
SLE Sport Utility 4-Door 5.3L 5328CC 325Cu. In. V8 GAS OHV Naturally Aspirated
VIN: 3
2008
GMC
Yukon XL 1500
SLT Sport Utility 4-Door 5.3L 5328CC 325Cu. In. V8 FLEX OHV Naturally Aspirated
VIN: 3
2008
GMC
Yukon XL 1500
SLT Sport Utility 4-Door 5.3L 5328CC 325Cu. In. V8 GAS OHV Naturally Aspirated
VIN: 3
2008
GMC
Yukon XL 2500
SLE Sport Utility 4-Door 6.0L 5967CC 364Cu. In. V8 GAS OHV Naturally Aspirated
2008
GMC
Yukon XL 2500
SLT Sport Utility 4-Door 6.0L 5967CC 364Cu. In. V8 GAS OHV Naturally Aspirated
2008
Hummer
H2
Adventure Crew Cab Pickup 4-Door 6.2L 6162CC 376Cu. In. V8 GAS OHV Naturally Aspirated
2008
Hummer
H2
Base Crew Cab Pickup 4-Door 6.2L 6162CC 376Cu. In. V8 GAS OHV Naturally Aspirated
2008
Hummer
H2
Base Sport Utility 4-Door 6.2L 6162CC 376Cu. In. V8 GAS OHV Naturally Aspirated
2008
Hummer
H2
Luxury Sport Utility 4-Door 6.2L 6162CC 376Cu. In. V8 GAS OHV Naturally Aspirated
2008
Hummer
H3
Alpha Sport Utility 4-Door 5.3L 5328CC 325Cu. In. V8 GAS OHV Naturally Aspirated
2008
Pontiac
Grand Prix
GXP Sedan 4-Door 5.3L 5328CC 325Cu. In. V8 GAS OHV Naturally Aspirated
2007
Buick
Rainier
CXL Sport Utility 4-Door 5.3L 5328CC 325Cu. In. V8 GAS OHV Naturally Aspirated
2007
Cadillac
CTS
V Sedan 4-Door 6.0L 5967CC 364Cu. In. V8 GAS OHV Naturally Aspirated
VIN: U
2007
Cadillac
Escalade
Base Sport Utility 4-Door 6.2L 6162CC 376Cu. In. V8 GAS OHV Naturally Aspirated
2007
Cadillac
Escalade ESV
Base Sport Utility 4-Door 6.2L 6162CC 376Cu. In. V8 GAS OHV Naturally Aspirated
2007
Cadillac
Escalade EXT
Base Crew Cab Pickup 4-Door 6.2L 6162CC 376Cu. In. V8 GAS OHV Naturally Aspirated
2007
Chevrolet
Avalanche
Base Crew Cab Pickup 4-Door 5.3L 5328CC 325Cu. In. V8 FLEX OHV Naturally Aspirated
VIN: 3
2007
Chevrolet
Avalanche
LS Crew Cab Pickup 4-Door 5.3L 5328CC 325Cu. In. V8 FLEX OHV Naturally Aspirated
VIN: 3
2007
Chevrolet
Avalanche
LS Crew Cab Pickup 4-Door 5.3L 5328CC 325Cu. In. V8 GAS OHV Naturally Aspirated
VIN: 3
2007
Chevrolet
Avalanche
LT Crew Cab Pickup 4-Door 5.3L 5328CC 325Cu. In. V8 FLEX OHV Naturally Aspirated
VIN: 3
2007
Chevrolet
Avalanche
LT Crew Cab Pickup 4-Door 5.3L 5328CC 325Cu. In. V8 GAS OHV Naturally Aspirated
VIN: 3
2007
Chevrolet
Avalanche
LTZ Crew Cab Pickup 4-Door 5.3L 5328CC 325Cu. In. V8 FLEX OHV Naturally Aspirated
VIN: 3
2007
Chevrolet
Avalanche
LTZ Crew Cab Pickup 4-Door 5.3L 5328CC 325Cu. In. V8 GAS OHV Naturally Aspirated
VIN: 3
2007
Chevrolet
Corvette
Base Convertible 2-Door 6.0L 5967CC 364Cu. In. V8 GAS OHV Naturally Aspirated
VIN: U
2007
Chevrolet
Corvette
Base Coupe 2-Door 6.0L 5967CC 364Cu. In. V8 GAS OHV Naturally Aspirated
VIN: U
2007
Chevrolet
Corvette
Z06 Coupe 2-Door 7.0L 7011CC 427Cu. In. V8 GAS OHV Naturally Aspirated
VIN: E
2007
Chevrolet
Impala
SS Sedan 4-Door 5.3L 5328CC 325Cu. In. V8 GAS OHV Naturally Aspirated
VIN: C
2007
Chevrolet
Monte Carlo
SS Coupe 2-Door 5.3L 5328CC 325Cu. In. V8 GAS OHV Naturally Aspirated
VIN: C
2007
Chevrolet
Silverado 1500
Base Standard Cab Pickup 2-Door 5.3L 5328CC 325Cu. In. V8 GAS OHV Naturally Aspirated
VIN: 3
2007
Chevrolet
Silverado 1500
LT Crew Cab Pickup 4-Door 4.8L 294Cu. In. V8 GAS OHV Naturally Aspirated
VIN: C
2007
Chevrolet
Silverado 1500
LT Crew Cab Pickup 4-Door 5.3L 5328CC 325Cu. In. V8 FLEX OHV Naturally Aspirated
VIN: 3
2007
Chevrolet
Silverado 1500
LT Crew Cab Pickup 4-Door 5.3L 5328CC 325Cu. In. V8 GAS OHV Naturally Aspirated
VIN: M
2007
Chevrolet
Silverado 1500
LT Crew Cab Pickup 4-Door 6.0L 5967CC 364Cu. In. V8 GAS OHV Naturally Aspirated
VIN: Y
2007
Chevrolet
Silverado 1500
LT Extended Cab Pickup 4-Door 4.8L 294Cu. In. V8 GAS OHV Naturally Aspirated
VIN: C
2007
Chevrolet
Silverado 1500
LT Extended Cab Pickup 4-Door 5.3L 5328CC 325Cu. In. V8 FLEX OHV Naturally Aspirated
VIN: 3
2007
Chevrolet
Silverado 1500
LT Extended Cab Pickup 4-Door 5.3L 5328CC 325Cu. In. V8 GAS OHV Naturally Aspirated
VIN: 3
2007
Chevrolet
Silverado 1500
LT Extended Cab Pickup 4-Door 6.0L 5967CC 364Cu. In. V8 GAS OHV Naturally Aspirated
VIN: Y
2007
Chevrolet
Silverado 1500
LT Standard Cab Pickup 2-Door 4.8L 294Cu. In. V8 GAS OHV Naturally Aspirated
VIN: C
2007
Chevrolet
Silverado 1500
LT Standard Cab Pickup 2-Door 5.3L 5328CC 325Cu. In. V8 FLEX OHV Naturally Aspirated
VIN: 3
2007
Chevrolet
Silverado 1500
LT Standard Cab Pickup 2-Door 5.3L 5328CC 325Cu. In. V8 GAS OHV Naturally Aspirated
VIN: 3
2007
Chevrolet
Silverado 1500
LT Standard Cab Pickup 2-Door 6.0L 5967CC 364Cu. In. V8 GAS OHV Naturally Aspirated
VIN: Y
2007
Chevrolet
Silverado 1500
LTZ Crew Cab Pickup 4-Door 5.3L 5328CC 325Cu. In. V8 FLEX OHV Naturally Aspirated
VIN: 3
2007
Chevrolet
Silverado 1500
LTZ Crew Cab Pickup 4-Door 5.3L 5328CC 325Cu. In. V8 GAS OHV Naturally Aspirated
VIN: M
2007
Chevrolet
Silverado 1500
LTZ Crew Cab Pickup 4-Door 6.0L 5967CC 364Cu. In. V8 GAS OHV Naturally Aspirated
VIN: Y
2007
Chevrolet
Silverado 1500
LTZ Extended Cab Pickup 4-Door 5.3L 5328CC 325Cu. In. V8 FLEX OHV Naturally Aspirated
VIN: 3
2007
Chevrolet
Silverado 1500
LTZ Extended Cab Pickup 4-Door 5.3L 5328CC 325Cu. In. V8 GAS OHV Naturally Aspirated
VIN: 3
2007
Chevrolet
Silverado 1500
LTZ Extended Cab Pickup 4-Door 6.0L 5967CC 364Cu. In. V8 GAS OHV Naturally Aspirated
VIN: Y
2007
Chevrolet
Silverado 1500
LTZ Standard Cab Pickup 2-Door 5.3L 5328CC 325Cu. In. V8 FLEX OHV Naturally Aspirated
VIN: 3
2007
Chevrolet
Silverado 1500
LTZ Standard Cab Pickup 2-Door 5.3L 5328CC 325Cu. In. V8 GAS OHV Naturally Aspirated
VIN: 3
2007
Chevrolet
Silverado 1500
LTZ Standard Cab Pickup 2-Door 6.0L 5967CC 364Cu. In. V8 GAS OHV Naturally Aspirated
VIN: Y
2007
Chevrolet
Silverado 1500
WT Crew Cab Pickup 4-Door 4.8L 294Cu. In. V8 GAS OHV Naturally Aspirated
VIN: C
2007
Chevrolet
Silverado 1500
WT Crew Cab Pickup 4-Door 5.3L 5328CC 325Cu. In. V8 FLEX OHV Naturally Aspirated
VIN: 3
2007
Chevrolet
Silverado 1500
WT Crew Cab Pickup 4-Door 5.3L 5328CC 325Cu. In. V8 GAS OHV Naturally Aspirated
VIN: M
2007
Chevrolet
Silverado 1500
WT Extended Cab Pickup 4-Door 4.8L 294Cu. In. V8 GAS OHV Naturally Aspirated
VIN: C
2007
Chevrolet
Silverado 1500
WT Extended Cab Pickup 4-Door 5.3L 5328CC 325Cu. In. V8 FLEX OHV Naturally Aspirated
VIN: 3
2007
Chevrolet
Silverado 1500
WT Extended Cab Pickup 4-Door 5.3L 5328CC 325Cu. In. V8 GAS OHV Naturally Aspirated
VIN: 3
2007
Chevrolet
Silverado 1500
WT Standard Cab Pickup 2-Door 4.8L 294Cu. In. V8 GAS OHV Naturally Aspirated
VIN: C
2007
Chevrolet
Silverado 1500
WT Standard Cab Pickup 2-Door 5.3L 5328CC 325Cu. In. V8 FLEX OHV Naturally Aspirated
VIN: 3
2007
Chevrolet
Silverado 1500
WT Standard Cab Pickup 2-Door 5.3L 5328CC 325Cu. In. V8 GAS OHV Naturally Aspirated
VIN: 3
2007
Chevrolet
Silverado 1500 Classic
LS Crew Cab Pickup 4-Door 4.8L 294Cu. In. V8 GAS OHV Naturally Aspirated
VIN: C
2007
Chevrolet
Silverado 1500 Classic
LS Crew Cab Pickup 4-Door 5.3L 5328CC 325Cu. In. V8 GAS OHV Naturally Aspirated
VIN: M
2007
Chevrolet
Silverado 1500 Classic
LS Extended Cab Pickup 4-Door 4.8L 294Cu. In. V8 GAS OHV Naturally Aspirated
VIN: C
2007
Chevrolet
Silverado 1500 Classic
LS Extended Cab Pickup 4-Door 5.3L 5328CC 325Cu. In. V8 GAS OHV Naturally Aspirated
VIN: M
2007
Chevrolet
Silverado 1500 Classic
LS Standard Cab Pickup 2-Door 4.8L 294Cu. In. V8 GAS OHV Naturally Aspirated
VIN: C
2007
Chevrolet
Silverado 1500 Classic
LS Standard Cab Pickup 2-Door 5.3L 5328CC 325Cu. In. V8 GAS OHV Naturally Aspirated
VIN: M
2007
Chevrolet
Silverado 1500 Classic
LT Crew Cab Pickup 4-Door 4.8L 294Cu. In. V8 GAS OHV Naturally Aspirated
VIN: C
2007
Chevrolet
Silverado 1500 Classic
LT Crew Cab Pickup 4-Door 5.3L 5328CC 325Cu. In. V8 GAS OHV Naturally Aspirated
VIN: M
2007
Chevrolet
Silverado 1500 Classic
LT Crew Cab Pickup 4-Door 6.0L 5967CC 364Cu. In. V8 GAS OHV Naturally Aspirated
VIN: Y
2007
Chevrolet
Silverado 1500 Classic
LT Extended Cab Pickup 4-Door 4.8L 294Cu. In. V8 GAS OHV Naturally Aspirated
VIN: C
2007
Chevrolet
Silverado 1500 Classic
LT Extended Cab Pickup 4-Door 5.3L 5328CC 325Cu. In. V8 GAS OHV Naturally Aspirated
VIN: M
2007
Chevrolet
Silverado 1500 Classic
LT Extended Cab Pickup 4-Door 6.0L 5967CC 364Cu. In. V8 GAS OHV Naturally Aspirated
VIN: Y
2007
Chevrolet
Silverado 1500 Classic
LT Standard Cab Pickup 2-Door 4.8L 294Cu. In. V8 GAS OHV Naturally Aspirated
VIN: C
2007
Chevrolet
Silverado 1500 Classic
LT Standard Cab Pickup 2-Door 5.3L 5328CC 325Cu. In. V8 GAS OHV Naturally Aspirated
VIN: M
2007
Chevrolet
Silverado 1500 Classic
LT Standard Cab Pickup 2-Door 6.0L 5967CC 364Cu. In. V8 GAS OHV Naturally Aspirated
VIN: Y
2007
Chevrolet
Silverado 1500 Classic
SS Extended Cab Pickup 4-Door 6.0L 5967CC 364Cu. In. V8 GAS OHV Naturally Aspirated
VIN: Y
2007
Chevrolet
Silverado 1500 Classic
WT Extended Cab Pickup 4-Door 4.8L 294Cu. In. V8 GAS OHV Naturally Aspirated
VIN: C
2007
Chevrolet
Silverado 1500 Classic
WT Extended Cab Pickup 4-Door 5.3L 5328CC 325Cu. In. V8 GAS OHV Naturally Aspirated
VIN: M
2007
Chevrolet
Silverado 1500 Classic
WT Standard Cab Pickup 2-Door 4.8L 294Cu. In. V8 GAS OHV Naturally Aspirated
VIN: C
2007
Chevrolet
Silverado 1500 Classic
WT Standard Cab Pickup 2-Door 5.3L 5328CC 325Cu. In. V8 GAS OHV Naturally Aspirated
VIN: M
2007
Chevrolet
Silverado 2500 HD
LT Cab & Chassis 2-Door 6.0L 5967CC 364Cu. In. V8 GAS OHV Naturally Aspirated
VIN: K
2007
Chevrolet
Silverado 2500 HD
LT Cab & Chassis 4-Door 6.0L 5967CC 364Cu. In. V8 GAS OHV Naturally Aspirated
VIN: K
2007
Chevrolet
Silverado 2500 HD
LT Crew Cab Pickup 4-Door 6.0L 5967CC 364Cu. In. V8 GAS OHV Naturally Aspirated
VIN: K
2007
Chevrolet
Silverado 2500 HD
LT Extended Cab Pickup 4-Door 6.0L 5967CC 364Cu. In. V8 GAS OHV Naturally Aspirated
VIN: K
2007
Chevrolet
Silverado 2500 HD
LT Standard Cab Pickup 2-Door 6.0L 5967CC 364Cu. In. V8 GAS OHV Naturally Aspirated
VIN: K
2007
Chevrolet
Silverado 2500 HD
LTZ Cab & Chassis 4-Door 6.0L 5967CC 364Cu. In. V8 GAS OHV Naturally Aspirated
VIN: K
2007
Chevrolet
Silverado 2500 HD
LTZ Crew Cab Pickup 4-Door 6.0L 5967CC 364Cu. In. V8 GAS OHV Naturally Aspirated
VIN: K
2007
Chevrolet
Silverado 2500 HD
LTZ Extended Cab Pickup 4-Door 6.0L 5967CC 364Cu. In. V8 GAS OHV Naturally Aspirated
VIN: K
2007
Chevrolet
Silverado 2500 HD
WT Cab & Chassis 2-Door 6.0L 5967CC 364Cu. In. V8 GAS OHV Naturally Aspirated
VIN: K
2007
Chevrolet
Silverado 2500 HD
WT Cab & Chassis 4-Door 6.0L 5967CC 364Cu. In. V8 GAS OHV Naturally Aspirated
VIN: K
2007
Chevrolet
Silverado 2500 HD
WT Crew Cab Pickup 4-Door 6.0L 5967CC 364Cu. In. V8 GAS OHV Naturally Aspirated
VIN: K
2007
Chevrolet
Silverado 2500 HD
WT Extended Cab Pickup 4-Door 6.0L 5967CC 364Cu. In. V8 GAS OHV Naturally Aspirated
VIN: K
2007
Chevrolet
Silverado 2500 HD
WT Standard Cab Pickup 2-Door 6.0L 5967CC 364Cu. In. V8 GAS OHV Naturally Aspirated
VIN: K
2007
Chevrolet
Silverado 2500 HD Classic
LS Cab & Chassis 2-Door 6.0L 5967CC 364Cu. In. V8 GAS OHV Naturally Aspirated
VIN: K
2007
Chevrolet
Silverado 2500 HD Classic
LS Cab & Chassis 4-Door 6.0L 5967CC 364Cu. In. V8 GAS OHV Naturally Aspirated
VIN: K
2007
Chevrolet
Silverado 2500 HD Classic
LS Extended Cab Pickup 4-Door 6.0L 5967CC 364Cu. In. V8 GAS OHV Naturally Aspirated
VIN: K
2007
Chevrolet
Silverado 2500 HD Classic
LS Standard Cab Pickup 2-Door 6.0L 5967CC 364Cu. In. V8 GAS OHV Naturally Aspirated
VIN: K
2007
Chevrolet
Silverado 2500 HD Classic
LT Cab & Chassis 2-Door 6.0L 5967CC 364Cu. In. V8 GAS OHV Naturally Aspirated
VIN: K
2007
Chevrolet
Silverado 2500 HD Classic
LT Cab & Chassis 4-Door 6.0L 5967CC 364Cu. In. V8 GAS OHV Naturally Aspirated
VIN: K
2007
Chevrolet
Silverado 2500 HD Classic
LT Crew Cab Pickup 4-Door 6.0L 5967CC 364Cu. In. V8 GAS OHV Naturally Aspirated
VIN: K
2007
Chevrolet
Silverado 2500 HD Classic
LT Extended Cab Pickup 4-Door 6.0L 5967CC 364Cu. In. V8 GAS OHV Naturally Aspirated
VIN: K
2007
Chevrolet
Silverado 2500 HD Classic
LT Standard Cab Pickup 2-Door 6.0L 5967CC 364Cu. In. V8 GAS OHV Naturally Aspirated
VIN: K
2007
Chevrolet
Silverado 2500 HD Classic
WT Cab & Chassis 2-Door 6.0L 5967CC 364Cu. In. V8 GAS OHV Naturally Aspirated
VIN: K
2007
Chevrolet
Silverado 2500 HD Classic
WT Cab & Chassis 4-Door 6.0L 5967CC 364Cu. In. V8 GAS OHV Naturally Aspirated
VIN: K
2007
Chevrolet
Silverado 2500 HD Classic
WT Crew Cab Pickup 4-Door 6.0L 5967CC 364Cu. In. V8 GAS OHV Naturally Aspirated
VIN: K
2007
Chevrolet
Silverado 2500 HD Classic
WT Extended Cab Pickup 4-Door 6.0L 5967CC 364Cu. In. V8 GAS OHV Naturally Aspirated
VIN: K
2007
Chevrolet
Silverado 2500 HD Classic
WT Standard Cab Pickup 2-Door 6.0L 5967CC 364Cu. In. V8 GAS OHV Naturally Aspirated
VIN: K
2007
Chevrolet
Silverado 3500 HD
LT Cab & Chassis 2-Door 6.0L 5967CC 364Cu. In. V8 GAS OHV Naturally Aspirated
VIN: K
2007
Chevrolet
Silverado 3500 HD
LT Cab & Chassis 4-Door 6.0L 5967CC 364Cu. In. V8 GAS OHV Naturally Aspirated
VIN: K
2007
Chevrolet
Silverado 3500 HD
LT Crew Cab Pickup 4-Door 6.0L 5967CC 364Cu. In. V8 GAS OHV Naturally Aspirated
VIN: K
2007
Chevrolet
Silverado 3500 HD
LT Extended Cab Pickup 4-Door 6.0L 5967CC 364Cu. In. V8 GAS OHV Naturally Aspirated
VIN: K
2007
Chevrolet
Silverado 3500 HD
LT Standard Cab Pickup 2-Door 6.0L 5967CC 364Cu. In. V8 GAS OHV Naturally Aspirated
VIN: K
2007
Chevrolet
Silverado 3500 HD
LTZ Cab & Chassis 4-Door 6.0L 5967CC 364Cu. In. V8 GAS OHV Naturally Aspirated
VIN: K
2007
Chevrolet
Silverado 3500 HD
LTZ Crew Cab Pickup 4-Door 6.0L 5967CC 364Cu. In. V8 GAS OHV Naturally Aspirated
VIN: K
2007
Chevrolet
Silverado 3500 HD
LTZ Extended Cab Pickup 4-Door 6.0L 5967CC 364Cu. In. V8 GAS OHV Naturally Aspirated
VIN: K
2007
Chevrolet
Silverado 3500 HD
LTZ Standard Cab Pickup 2-Door 6.0L 5967CC 364Cu. In. V8 GAS OHV Naturally Aspirated
VIN: K
2007
Chevrolet
Silverado 3500 HD
WT Cab & Chassis 2-Door 6.0L 5967CC 364Cu. In. V8 GAS OHV Naturally Aspirated
VIN: K
2007
Chevrolet
Silverado 3500 HD
WT Cab & Chassis 4-Door 6.0L 5967CC 364Cu. In. V8 GAS OHV Naturally Aspirated
VIN: K
2007
Chevrolet
Silverado 3500 HD
WT Crew Cab Pickup 4-Door 6.0L 5967CC 364Cu. In. V8 GAS OHV Naturally Aspirated
VIN: K
2007
Chevrolet
Silverado 3500 HD
WT Extended Cab Pickup 4-Door 6.0L 5967CC 364Cu. In. V8 GAS OHV Naturally Aspirated
VIN: K
2007
Chevrolet
Silverado 3500 HD
WT Standard Cab Pickup 2-Door 6.0L 5967CC 364Cu. In. V8 GAS OHV Naturally Aspirated
VIN: K
2007
Chevrolet
Suburban 1500
Base Sport Utility 4-Door 5.3L 5328CC 325Cu. In. V8 GAS OHV Naturally Aspirated
VIN: 3
2007
Chevrolet
Suburban 1500
LS Sport Utility 4-Door 5.3L 5328CC 325Cu. In. V8 FLEX OHV Naturally Aspirated
VIN: 3
2007
Chevrolet
Suburban 1500
LS Sport Utility 4-Door 5.3L 5328CC 325Cu. In. V8 GAS OHV Naturally Aspirated
VIN: 3
2007
Chevrolet
Suburban 1500
LT Sport Utility 4-Door 5.3L 5328CC 325Cu. In. V8 FLEX OHV Naturally Aspirated
VIN: 3
2007
Chevrolet
Suburban 1500
LT Sport Utility 4-Door 5.3L 5328CC 325Cu. In. V8 GAS OHV Naturally Aspirated
VIN: 3
2007
Chevrolet
Suburban 1500
LTZ Sport Utility 4-Door 5.3L 5328CC 325Cu. In. V8 FLEX OHV Naturally Aspirated
VIN: 3
2007
Chevrolet
Suburban 1500
LTZ Sport Utility 4-Door 5.3L 5328CC 325Cu. In. V8 GAS OHV Naturally Aspirated
VIN: 3
2007
Chevrolet
Suburban 1500
Z71 Sport Utility 4-Door 5.3L 5328CC 325Cu. In. V8 FLEX OHV Naturally Aspirated
VIN: 3
2007
Chevrolet
Suburban 2500
LS Sport Utility 4-Door 6.0L 5967CC 364Cu. In. V8 GAS OHV Naturally Aspirated
VIN: K
2007
Chevrolet
Suburban 2500
LT Sport Utility 4-Door 6.0L 5967CC 364Cu. In. V8 GAS OHV Naturally Aspirated
VIN: K
2007
Chevrolet
Suburban 2500
LTZ Sport Utility 4-Door 6.0L 5967CC 364Cu. In. V8 GAS OHV Naturally Aspirated
VIN: K
2007
Chevrolet
Tahoe
Base Sport Utility 4-Door 5.3L 5328CC 325Cu. In. V8 GAS OHV Naturally Aspirated
VIN: 0
2007
Chevrolet
Tahoe
LS Sport Utility 4-Door 4.8L 294Cu. In. V8 GAS OHV Naturally Aspirated
VIN: C
2007
Chevrolet
Tahoe
LS Sport Utility 4-Door 5.3L 5328CC 325Cu. In. V8 FLEX OHV Naturally Aspirated
VIN: 0
2007
Chevrolet
Tahoe
LS Sport Utility 4-Door 5.3L 5328CC 325Cu. In. V8 GAS OHV Naturally Aspirated
VIN: 0
2007
Chevrolet
Tahoe
LT Sport Utility 4-Door 5.3L 5328CC 325Cu. In. V8 FLEX OHV Naturally Aspirated
VIN: 0
2007
Chevrolet
Tahoe
LT Sport Utility 4-Door 5.3L 5328CC 325Cu. In. V8 GAS OHV Naturally Aspirated
VIN: 0
2007
Chevrolet
Tahoe
LTZ Sport Utility 4-Door 5.3L 5328CC 325Cu. In. V8 FLEX OHV Naturally Aspirated
VIN: 0
2007
Chevrolet
Tahoe
LTZ Sport Utility 4-Door 5.3L 5328CC 325Cu. In. V8 GAS OHV Naturally Aspirated
VIN: 0
2007
Chevrolet
Trailblazer
LS Sport Utility 4-Door 5.3L 5328CC 325Cu. In. V8 GAS OHV Naturally Aspirated
VIN: M
2007
Chevrolet
Trailblazer
LT Sport Utility 4-Door 5.3L 5328CC 325Cu. In. V8 GAS OHV Naturally Aspirated
VIN: M
2007
Chevrolet
Trailblazer
SS Sport Utility 4-Door 6.0L 5967CC 364Cu. In. V8 GAS OHV Naturally Aspirated
VIN: H
2007
GMC
Envoy
Denali Sport Utility 4-Door 5.3L 5328CC 325Cu. In. V8 GAS OHV Naturally Aspirated
VIN: M
2007
GMC
Savana 1500
Base Standard Cargo Van 3-Door 5.3L 5328CC 325Cu. In. V8 GAS OHV Naturally Aspirated
VIN: Z
2007
GMC
Savana 1500
Base Standard Cargo Van 4-Door 5.3L 5328CC 325Cu. In. V8 GAS OHV Naturally Aspirated
VIN: Z
2007
GMC
Savana 1500
LS Standard Passenger Van 3-Door 5.3L 5328CC 325Cu. In. V8 GAS OHV Naturally Aspirated
VIN: Z
2007
GMC
Savana 1500
LS Standard Passenger Van 4-Door 5.3L 5328CC 325Cu. In. V8 GAS OHV Naturally Aspirated
VIN: Z
2007
GMC
Savana 1500
LT Standard Passenger Van 3-Door 5.3L 5328CC 325Cu. In. V8 GAS OHV Naturally Aspirated
VIN: Z
2007
GMC
Savana 1500
LT Standard Passenger Van 4-Door 5.3L 5328CC 325Cu. In. V8 GAS OHV Naturally Aspirated
VIN: Z
2007
GMC
Sierra 1500
Denali Crew Cab Pickup 4-Door 6.2L 6162CC 376Cu. In. V8 GAS OHV Naturally Aspirated
2007
GMC
Sierra 1500
SLE Crew Cab Pickup 4-Door 5.3L 5328CC 325Cu. In. V8 FLEX OHV Naturally Aspirated
VIN: 3
2007
GMC
Sierra 1500
SLE Crew Cab Pickup 4-Door 5.3L 5328CC 325Cu. In. V8 GAS OHV Naturally Aspirated
VIN: M
2007
GMC
Sierra 1500
SLE Extended Cab Pickup 4-Door 5.3L 5328CC 325Cu. In. V8 FLEX OHV Naturally Aspirated
VIN: 3
2007
GMC
Sierra 1500
SLE Extended Cab Pickup 4-Door 5.3L 5328CC 325Cu. In. V8 GAS OHV Naturally Aspirated
VIN: 3
2007
GMC
Sierra 1500
SLE Standard Cab Pickup 2-Door 5.3L 5328CC 325Cu. In. V8 FLEX OHV Naturally Aspirated
VIN: 3
2007
GMC
Sierra 1500
SLE Standard Cab Pickup 2-Door 5.3L 5328CC 325Cu. In. V8 GAS OHV Naturally Aspirated
VIN: 3
2007
GMC
Sierra 1500
SLT Crew Cab Pickup 4-Door 5.3L 5328CC 325Cu. In. V8 FLEX OHV Naturally Aspirated
VIN: 3
2007
GMC
Sierra 1500
SLT Crew Cab Pickup 4-Door 5.3L 5328CC 325Cu. In. V8 GAS OHV Naturally Aspirated
VIN: M
2007
GMC
Sierra 1500
SLT Extended Cab Pickup 4-Door 5.3L 5328CC 325Cu. In. V8 FLEX OHV Naturally Aspirated
VIN: 3
2007
GMC
Sierra 1500
SLT Extended Cab Pickup 4-Door 5.3L 5328CC 325Cu. In. V8 GAS OHV Naturally Aspirated
VIN: 3
2007
GMC
Sierra 1500
WT Crew Cab Pickup 4-Door 5.3L 5328CC 325Cu. In. V8 FLEX OHV Naturally Aspirated
VIN: 3
2007
GMC
Sierra 1500
WT Crew Cab Pickup 4-Door 5.3L 5328CC 325Cu. In. V8 GAS OHV Naturally Aspirated
VIN: M
2007
GMC
Sierra 1500
WT Extended Cab Pickup 4-Door 5.3L 5328CC 325Cu. In. V8 FLEX OHV Naturally Aspirated
VIN: 3
2007
GMC
Sierra 1500
WT Extended Cab Pickup 4-Door 5.3L 5328CC 325Cu. In. V8 GAS OHV Naturally Aspirated
VIN: 3
2007
GMC
Sierra 1500
WT Standard Cab Pickup 2-Door 5.3L 5328CC 325Cu. In. V8 FLEX OHV Naturally Aspirated
VIN: 3
2007
GMC
Sierra 1500
WT Standard Cab Pickup 2-Door 5.3L 5328CC 325Cu. In. V8 GAS OHV Naturally Aspirated
VIN: 3
2007
GMC
Sierra 1500 Classic
SL Crew Cab Pickup 4-Door 5.3L 5328CC 325Cu. In. V8 GAS OHV Naturally Aspirated
VIN: M
2007
GMC
Sierra 1500 Classic
SL Extended Cab Pickup 4-Door 5.3L 5328CC 325Cu. In. V8 GAS OHV Naturally Aspirated
VIN: M
2007
GMC
Sierra 1500 Classic
SL Standard Cab Pickup 2-Door 5.3L 5328CC 325Cu. In. V8 GAS OHV Naturally Aspirated
VIN: M
2007
GMC
Sierra 1500 Classic
SLE Crew Cab Pickup 4-Door 5.3L 5328CC 325Cu. In. V8 GAS OHV Naturally Aspirated
VIN: M
2007
GMC
Sierra 1500 Classic
SLE Extended Cab Pickup 4-Door 5.3L 5328CC 325Cu. In. V8 GAS OHV Naturally Aspirated
VIN: M
2007
GMC
Sierra 1500 Classic
SLE Standard Cab Pickup 2-Door 5.3L 5328CC 325Cu. In. V8 GAS OHV Naturally Aspirated
VIN: M
2007
GMC
Sierra 1500 Classic
SLT Crew Cab Pickup 4-Door 5.3L 5328CC 325Cu. In. V8 GAS OHV Naturally Aspirated
VIN: M
2007
GMC
Sierra 1500 Classic
SLT Extended Cab Pickup 4-Door 5.3L 5328CC 325Cu. In. V8 GAS OHV Naturally Aspirated
VIN: M
2007
GMC
Sierra 1500 Classic
WT Extended Cab Pickup 4-Door 5.3L 5328CC 325Cu. In. V8 GAS OHV Naturally Aspirated
VIN: M
2007
GMC
Sierra 1500 Classic
WT Standard Cab Pickup 2-Door 5.3L 5328CC 325Cu. In. V8 GAS OHV Naturally Aspirated
VIN: M
2007
GMC
Sierra 3500 HD
SLE Crew Cab Pickup 4-Door 6.0L 5967CC 364Cu. In. V8 GAS OHV Naturally Aspirated
2007
GMC
Sierra 3500 HD
SLE Extended Cab Pickup 4-Door 6.0L 5967CC 364Cu. In. V8 GAS OHV Naturally Aspirated
2007
GMC
Sierra 3500 HD
SLE Standard Cab Pickup 2-Door 6.0L 5967CC 364Cu. In. V8 GAS OHV Naturally Aspirated
2007
GMC
Sierra 3500 HD
SLT Cab & Chassis 2-Door 6.0L 5967CC 364Cu. In. V8 GAS OHV Naturally Aspirated
2007
GMC
Sierra 3500 HD
SLT Cab & Chassis 4-Door 6.0L 5967CC 364Cu. In. V8 GAS OHV Naturally Aspirated
2007
GMC
Sierra 3500 HD
SLT Crew Cab Pickup 4-Door 6.0L 5967CC 364Cu. In. V8 GAS OHV Naturally Aspirated
2007
GMC
Sierra 3500 HD
SLT Extended Cab Pickup 4-Door 6.0L 5967CC 364Cu. In. V8 GAS OHV Naturally Aspirated
2007
GMC
Sierra 3500 HD
SLT Standard Cab Pickup 2-Door 6.0L 5967CC 364Cu. In. V8 GAS OHV Naturally Aspirated
2007
GMC
Sierra 3500 HD
WT Cab & Chassis 2-Door 6.0L 5967CC 364Cu. In. V8 GAS OHV Naturally Aspirated
2007
GMC
Sierra 3500 HD
WT Cab & Chassis 4-Door 6.0L 5967CC 364Cu. In. V8 GAS OHV Naturally Aspirated
2007
GMC
Sierra 3500 HD
WT Crew Cab Pickup 4-Door 6.0L 5967CC 364Cu. In. V8 GAS OHV Naturally Aspirated
2007
GMC
Sierra 3500 HD
WT Extended Cab Pickup 4-Door 6.0L 5967CC 364Cu. In. V8 GAS OHV Naturally Aspirated
2007
GMC
Sierra 3500 HD
WT Standard Cab Pickup 2-Door 6.0L 5967CC 364Cu. In. V8 GAS OHV Naturally Aspirated
2007
GMC
Yukon
Base Sport Utility 4-Door 5.3L 5328CC 325Cu. In. V8 GAS OHV Naturally Aspirated
VIN: 0
2007
GMC
Yukon
Denali Sport Utility 4-Door 6.2L 6162CC 376Cu. In. V8 GAS OHV Naturally Aspirated
2007
GMC
Yukon
SLE Sport Utility 4-Door 4.8L 294Cu. In. V8 GAS OHV Naturally Aspirated
2007
GMC
Yukon
SLE Sport Utility 4-Door 5.3L 5328CC 325Cu. In. V8 FLEX OHV Naturally Aspirated
VIN: 0
2007
GMC
Yukon
SLE Sport Utility 4-Door 5.3L 5328CC 325Cu. In. V8 GAS OHV Naturally Aspirated
VIN: 0
2007
GMC
Yukon
SLT Sport Utility 4-Door 5.3L 5328CC 325Cu. In. V8 FLEX OHV Naturally Aspirated
VIN: 0
2007
GMC
Yukon
SLT Sport Utility 4-Door 5.3L 5328CC 325Cu. In. V8 GAS OHV Naturally Aspirated
VIN: 0
2007
GMC
Yukon XL 1500
Denali Sport Utility 4-Door 6.2L 6162CC 376Cu. In. V8 GAS OHV Naturally Aspirated
2007
GMC
Yukon XL 1500
SLE Sport Utility 4-Door 5.3L 5328CC 325Cu. In. V8 FLEX OHV Naturally Aspirated
VIN: 3
2007
GMC
Yukon XL 1500
SLE Sport Utility 4-Door 5.3L 5328CC 325Cu. In. V8 GAS OHV Naturally Aspirated
VIN: 3
2007
GMC
Yukon XL 1500
SLT Sport Utility 4-Door 5.3L 5328CC 325Cu. In. V8 FLEX OHV Naturally Aspirated
VIN: 3
2007
GMC
Yukon XL 1500
SLT Sport Utility 4-Door 5.3L 5328CC 325Cu. In. V8 GAS OHV Naturally Aspirated
VIN: 3
2007
GMC
Yukon XL 2500
SLE Sport Utility 4-Door 6.0L 5967CC 364Cu. In. V8 GAS OHV Naturally Aspirated
2007
GMC
Yukon XL 2500
SLT Sport Utility 4-Door 6.0L 5967CC 364Cu. In. V8 GAS OHV Naturally Aspirated
2007
Pontiac
Grand Prix
GXP Sedan 4-Door 5.3L 5328CC 325Cu. In. V8 GAS OHV Naturally Aspirated
2007
Saab
9-7x
5.3i Sport Utility 4-Door 5.3L 5328CC 325Cu. In. V8 GAS OHV Naturally Aspirated
2006
Buick
Rainier
CXL Sport Utility 4-Door 5.3L 5328CC 325Cu. In. V8 GAS OHV Naturally Aspirated
2006
Cadillac
CTS
V Sedan 4-Door 6.0L 5967CC 364Cu. In. V8 GAS OHV Naturally Aspirated
VIN: U
2006
Chevrolet
Corvette
Base Convertible 2-Door 6.0L 5967CC 364Cu. In. V8 GAS OHV Naturally Aspirated
VIN: U
2006
Chevrolet
Corvette
Base Coupe 2-Door 6.0L 5967CC 364Cu. In. V8 GAS OHV Naturally Aspirated
VIN: U
2006
Chevrolet
Corvette
Z06 Coupe 2-Door 7.0L 7011CC 427Cu. In. V8 GAS OHV Naturally Aspirated
VIN: E
2006
Chevrolet
Impala
SS Sedan 4-Door 5.3L 5328CC 325Cu. In. V8 GAS OHV Naturally Aspirated
VIN: C
2006
Chevrolet
Monte Carlo
SS Coupe 2-Door 5.3L 5328CC 325Cu. In. V8 GAS OHV Naturally Aspirated
VIN: C
2006
Chevrolet
Trailblazer
LS Sport Utility 4-Door 5.3L 5328CC 325Cu. In. V8 GAS OHV Naturally Aspirated
VIN: M
2006
Chevrolet
Trailblazer
LT Sport Utility 4-Door 5.3L 5328CC 325Cu. In. V8 GAS OHV Naturally Aspirated
VIN: M
2006
Chevrolet
Trailblazer
SS Sport Utility 4-Door 6.0L 5967CC 364Cu. In. V8 GAS OHV Naturally Aspirated
VIN: H
2006
GMC
Envoy
Denali Sport Utility 4-Door 5.3L 5328CC 325Cu. In. V8 GAS OHV Naturally Aspirated
2006
Pontiac
Grand Prix
GXP Sedan 4-Door 5.3L 5328CC 325Cu. In. V8 GAS OHV Naturally Aspirated
2006
Pontiac
GTO
Base Coupe 2-Door 6.0L 5967CC 364Cu. In. V8 GAS OHV Naturally Aspirated
2006
Saab
9-7x
5.3i Sport Utility 4-Door 5.3L 5328CC 325Cu. In. V8 GAS OHV Naturally Aspirated
2005
Chevrolet
Corvette
Base Convertible 2-Door 6.0L 364Cu. In. V8 GAS OHV Naturally Aspirated
VIN: U
2005
Chevrolet
Corvette
Base Coupe 2-Door 6.0L 364Cu. In. V8 GAS OHV Naturally Aspirated
VIN: U
2005
Pontiac
Grand Prix
GXP Sedan 4-Door 5.3L 5328CC 325Cu. In. V8 GAS OHV Naturally Aspirated
2005
Pontiac
GTO
Base Coupe 2-Door 6.0L 5967CC 364Cu. In. V8 GAS OHV Naturally Aspirated